Louise Blog
Director's Blog – August 9, 2017
MAY ALL OF YOUR CHOCOLATE DREAMS COME TRUE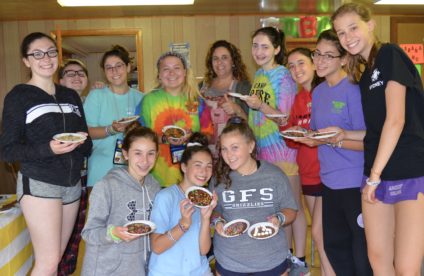 A highlight of the summer for our campers and staff (and Directors) is the arrival of our very own Chocolate Lady – a Camp Louise alum who hails from Florida. Aileen married into the chocolate business. Her husband is a third generation chocolatier. Her family currently has two chocolate factories (in Florida) called Chocolate Kingdom and 24 stores (called Schakolad) across the United States and even in Israel.
I had the wonderful opportunity to attend the chocolate activity with bunk #15 from Unit F.
We started out by learning a little bit about the history of chocolate. The Mayans and Aztecs created a drink that was called xocolatl. Translated this means bitter water because it has no sugar. When this drink transferred to Spain, it was called xocolatl caliente which translates to hot chocolate – not because of the temperature, but because of the spicy heat. The people in Spain claimed that it gave them tremendous energy, and they actually drank the hot chocolate cold.
We then tasted a roasted cocoa bean that comes straight from Ecuador. The beans were roasted in the factory and then coated with a little bit of cane sugar.
The Chocolate Lady, as she is affectionately called here at camp, talked about a new study at Harvard that discussed the benefits of cocoa beans – being good for your memory. As Aileen puts it, "it clears out the cobwebs." Another fun fact we learned – dark chocolate is very good for you. On the superfood scale, the cocoa bean is the second healthiest food. It reduces your cholesterol and is good for your eyes, teeth and heart.
The Chocolate Lady then taught us the proper way to taste chocolate. Did you know that there are no taste buds on your teeth? They are just on your tongue. So, when we taste tested the three different types of chocolate (dark, milk and white), we closed our eyes and chewed each chocolate drop two times and then let it swirl around our tongues to get the full flavor.
As we got down to business, the Chocolate Lady told us that she wants to make all of our chocolate dreams come true…and then she brought out the definite favorite for the campers – the Make Your Own Chocolate Pizza and Topping Bar.   The Chocolate Lady kicked it up a notch and this year, each camper made their own fudge in a baggie which was then used to make their very own fudgy s'more. It's easy. You can try it at home:
FUDGE IN A BAG RECIPE:
1 tablespoon butter
2 teaspoons cream cheese
½ cup powdered sugar
1 heaping teaspoon cocoa powder
½ teaspoon vanilla
I heard a camper from bunk #15 exclaim: "I didn't think it could get any better!"
And for our trainees, they had a special opportunity to create a deconstructed Oreo truffle – Oreo on the inside with toppings on the outside and a dollop of warm chocolate on top.
The Chocolate Lady and her family produce the Festival of Chocolate (all over the country) and at one of them, they actually made it into the Guinness Book of World Records for the largest cup of hot chocolate on the planet…880 gallons. As if that wasn't enough, they then catapulted 2,000 marshmallows into it! Can you picture it?! Pretty amazing!!
Wishing everyone sweet dreams…
Alicia
[bq_color]
Today's Birthdays – NONE

Happy UN-Birthday, Everyone!
[/bq_color]
Today's Menu
[table "" not found /]
Today's Weather

High: 80°F | Low: 60°F – Absolutely gorgeous day!