Airy Blog
Director's Blog – August 9, 2019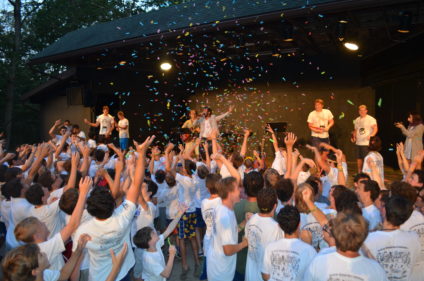 "We're Gonna Have A Good Time Tonight"
We had so much to celebrate tonight at Camp Airy – Kool and the Gang provided the prefect inspirational song!
First, congratulations to Julian and the White team for their victory in the August 2019 Olympics. As we entered the Tugs, only 50 points separated the teams. White was able to pull away, aided by a 250 point Joker played on the Group 5 Tug. Both Generals gave wonderful closing remarks during the trophy presentation, and applause for both were thunderous.
As we reunited as a camp, we turned our attention to Shabbat, and some special end-of-summer customs. This Shabbat highlights the Airy CITs as their camper careers come to a close. They take a lead role in all three services – Friday evening, Saturday morning and Havdallah on Saturday night. On Saturday morning, staff who were once Airy and Louise CITs take part in the service too.
Our song session at the Cohen Theater had some extra oomph and ruach tonight, as it was the last. Special guest Max, an Airy CA, taught and performed his original song about camp. Dan closed out the song session with a fitting "We Are the Champions" and sent us on our way to the Village Row basketball court for one final Dance Session of the summer. Rachael, Shai, Zac, the Shlichim, CAs and CITs led the festivities. "Lean on Me" followed dancing, and the "Goodnight Song" followed that. Then, MOVIE TIME!
Each division picked up Campteen, and then gathered for movies. All except for Bunk 16 … this was their bunk's night for their Airy Auction Prize … Party at Marty's. I hosted the campers and counselors for snacks, cold soft drinks, and a movie. They enjoyed a sectional sofa, air conditioning and a mix of sweet and salty treats. What a nice bunch of campers … and the counselors weren't half-bad either.
We look forward to Saturday for a special Israeli Shuk activity, in addition to the aforementioned Shabbat and Havdallah pieces. It's sure to be a happy-sad day, but regardless we are still together.
So long until the next blog,
Marty
Today's Birthdays

Happy Un-birthday to all!
Today's Menu
Breakfast , Lunch , Dinner
Omelettes – Veggie and Cheese | Cereal | Fruit | Yogurt , Pulled Chicken | French Fries | Green Beans | Salad Bar | Pasta Bar | , Chicken Noodle Soup | Brisket | Potato Latkes | Sautéed Carrots | Salad Bar | Pasta Bar | Cobbler
Today's Weather

High: 87°F | Low: 64°F
We're not complaining … another gorgeous day.