Louise Blog
Director's Blog – June 29, 2018
INTRODUCING MIDDAH GIRL!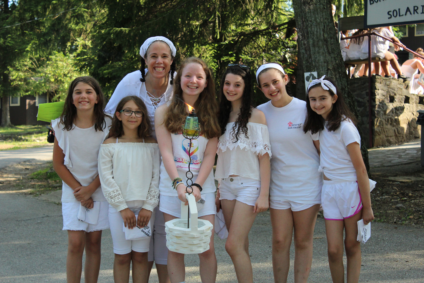 Each week, we focus on a different middah/value. We talk about it in activities and in the Dining Hall. Campers and staff can nominate other campers to light candles with me on Friday night if they demonstrated the middah during the week. It is a program that has grown through the years, and this year one of our second year counselors Evelyn had an incredible idea to further enhance our Middah of the Week program.
Each bunk received a middah ladder accompanied by our very own new superhero Middah Girl. Each night, campers in the bunk discuss how they have demonstrated the value of the week. During the conversation, the campers can actually move Middah Girl up the ladder. A new favorite saying around camp is becoming:
What would Middah Girl do?
It is such a great visual representation of how we strive to achieve the middot and be the best version of ourselves that we can be!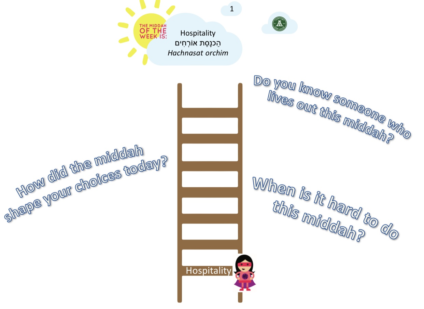 This week's middah was hospitality/hachnasat orchim. What a fitting way to start off our camp season talking about how we can welcome everyone into our camp community.
The campers who demonstrated this middah were honored to light candles on Shabbat. Some of the reasons they were selected were for:
Being so welcoming to everyone in the bunk
Making everyone feels comfortable by talking and playing with them

Being a new camper herself, she immediately reached out to another new camper, making her feel welcome

Writing a really nice note reaching out to a camper who arrived late to camp
Showing new friends the ropes at camp – not the literal ropes course
Being inclusive of everyone
Going out of her way to make sure everyone feels included
Being inclusive of whomever she is sitting with at meals
Always making sure everyone feels welcome at camp
Always going out of her way to do favors for others
I am so proud to be a part of this community where we welcome new and old friends!
Shabbat Shalom!
Alicia
[bq_color]
Today's Birthdays

Meredith – Counselor
Nadine – Copper Specialist
[/bq_color]
Today's Menu
[table "" not found /]
Today's Weather

High: 85°F | Low: 70°F
A sunny beautiful day and probably not as hot as where you are!