Airy Blog
Director's Blog – July 1, 2015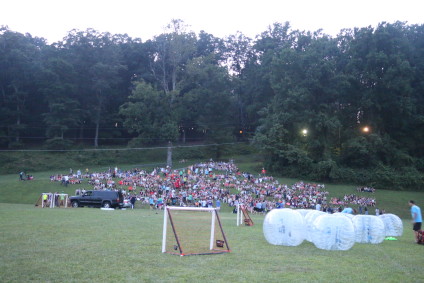 Last night at Airy, we invited over and hosted our big sister Camp Louise. It's always important to look your best and plan a lovely evening when family is visiting. But if we really wanted to make her proud, we would have pull out all of the stops. I'm quite sure that our "Winter Wonderland" left a great impression – and then some!
Preparation: We began planning for this get together back in the real winter. Our super programming staff led by Dorf and Jen and Stacy had a vision for this event. That's when the brainstorming and phone calls started, and that team continuously fine-tuned the details into June. The result – and a great one I should add – was an event that featured traditional carnival booths and games like the dunk tank, a fortune teller, a soccer shoot out and a "marriage booth." The event also included an iceless skating rink, a "Frozen" themed inflatable obstacle course, and a dee-jay spinning dance tunes all night.
Menu: If a friend is coming over, maybe you offer chips and salsa, or some cookies you can cut and bake. When your big sister is coming over, it's time to kick it up a notch. Our Outdoors Department cooked up a batch of their famous chili. Our CAs manned the snoball booth, the crushed ice / flavored syrup summertime favorite. The smell of fresh-popped popcorn filled the air. And the line at the fresh funnel cake station stretched across the midway area from 7-11 pm!
The Wow Factor: At 9:00 pm we gathered everyone on the hill for an announcement of raffle winners, followed by a fireworks show. The crowd that numbered approximately 1,000 joined in a countdown from "ten," and just after we shouted "one" the show began. And what a show! The crowed oohed and ahhed as the sky lit up and music played. Staff and campers for both camps remarked how impressed they were by the fireworks.
The Wrap-Up: Like any good party, things eventually wound down. Both camps' junior divisions headed uphill or to their buses. Dancing and skating continued for older campers. The seniors from both camps then began their walks or rides home. The trainees remained, and enjoyed a "VIP" S'mores snack before it was their turn to board buses and walk uphill.
And with that we all went to bed, undaunted by the cleanup that awaits us this morning because a great time was had by all.
[bq_color]
Today's Birthdays

Andrew S. Bunk 11
Amir – Counselor Bunk 16
[/bq_color]
Today's Menu
[table "" not found /]
Today's Weather

High: 86°F | Low: 64°F
Sunny and beautiful yet again – it never gets old writing that!
Marty Rochlin
Director