Airy Blog
Director's Blog – July 1, 2018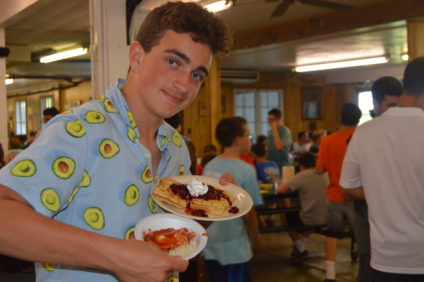 "Breakfast for Dinner"
One of the best parts of camp is getting to add a creative spin to "regular" things. What jumps to mind right away are some of the names of places around Airy. It's not "Canteen," but instead "Campteen." Younger campers work on art projects in "Fun FactAiry" and budding chefs of all ages master their skills in "CulinAiry." At camp, things are kind of … punny.
We have themed days of the week … we have Mazeh Maui Monday, and World Premier Wednesday, and Jersey Thursday. There is a faction lobbying for (medical) Scrub Sunday, and some holdovers from previous summers' Neon and Tye Dye Tuesdays. We spin a "Wheel.Of.Birthdays" and everyone's favorite prize to root for is "Three People."
Then there's the dining hall. Wing Night might as well be a national holiday, and chants for "Philly Swirls" go up whenever a frozen dessert platter is brought out from the kitchen. Opening Day is always pizza bagels, curly fries, chocolate milk and a rousing rendition of the song "Pizza Man." Tonight, our food service team surprised us with breakfast for dinner. The picture tells the story. I opted for waffles with fruit, whipped cream and a topping of Cinnamon Toast Crunch! Yum.
It is fun to work in a place and with people who aim to have as much fun as the campers we host. It is a v-AIRY extraordinAIRY place.
Marty
Today's Menu
[table "" not found /]
Today's Airy Weather

High: 93°F | Low: 73°F
Hot and Sunny!