Louise Blog
Director's Blog – July 1, 2019
A MUSICAL INSPIRATION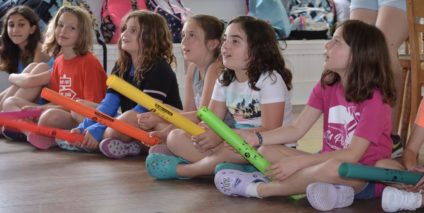 This bunk of rising 4th graders were most definitely enthralled listening to their counselor Melissa (who also happens to be their music counselor too) introduce them to the musical instrument – the boomwhacker.
If you are not familiar with this instrument, check out the picture. Each of these colorful sticks plays a different note. After the boomwhackers were given out, the campers got themselves in order from lowest to highest note. They were totally engaged as they listened to each other's notes.
As Melissa conducted this orchestra, the campers played scales. This was so successful that they took it a step further and with Melissa's guidance pointing at who should play and when, the bunk came together for an incredible version of Twinkle, Twinkle Little Star. The girls were so proud of themselves when they realized the song they had performed.
I asked this great first year counselor and former CIT about her inspiration to become a music counselor at Camp Louise. Melissa reflected on her own time as a camper and shared with me that she has always loved music. At camp, she would always sign up for music activities whenever she could.
Melissa told me that music is an incredible way to express yourself and what better place to do that than at camp where you can truly be yourself!
Melissa shared that when she was young, a music counselor taught her how to play a two-chord song on the guitar. Melissa came home from camp that summer and decided that she wanted to have a guitar – all because of this counselor. Melissa wants to be that counselor to her campers – the one who inspires them. And I have no doubt that Melissa will inspire many this summer at Camp Louise!
Alicia
Today's Birthdays

Maddie – ST

Hen – CA Counselor
UNIT SPOTLIGHT – Unit B

 Today, each bunk in Unit B got to experience Fort Ritchie! We all got to go over to the lake and try some exciting water activities! There were many options, including individual kayaking, canoeing with a friend, or even getting on the "party boat", a big inflatable boat with seven other friends! The girls had an amazing time learning new skills to move these boats around the lake! The counselors, our Division Head Dapple, and I got to join in on the fun too! What a great afternoon we all had!
Casey – Unit Leader, Unit B,

Today's Menu
Breakfast, Lunch, Dinner
Egg McA&L | English Muffins | Egg Patties | Meatless Sausage | Cheese | Hash Browns | Melon, Pizza Squares | Caesar Salad | Sauteed Veggies | Zucchini Fries | Salad Bar | Pasta Bar, Pulled Chicken | Buns | Fries | Pickles | Cole Slaw | Salad Bar | Pasta Bar
Today's Weather

High: 81°F | Low: 63°F
Another absolutely perfect summer day!