Airy Blog
Director's Blog – July 10, 2015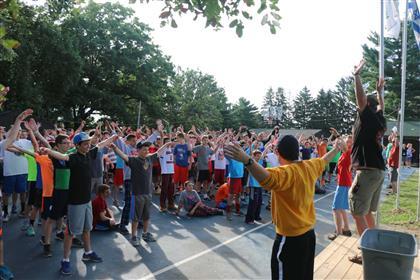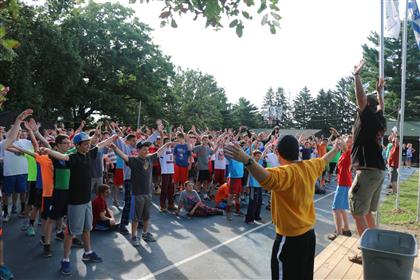 At Airy, we gather as a whole camp every morning for what we call "Line-Up." There are several reasons for this, from both logistical and programmatic perspectives. Our camp culture is based on community, so we want daily opportunities to bring everyone together. In a setting where we have staggered meal start times – and dining hall acoustics that are challenging – a camp-wide lineup provides a great venue. We can combine ritual, celebrations, schtick and announcements in one fell swoop.
We begin with raising three flags – American, Israeli and Camp Airy. Following the Pledge of Allegiance, the entertainment begins. Our goal is to help campers and staff shake off their sleepy cobwebs. So each morning, I invite up a group. Our Israeli staff are the stars on "Ma Zeh Monday." "Neon Tuesday" is an eye popping experience brought to us by some clever unit leaders in our Junior Division, and the fashion trend is gaining momentum. "Wacky Wednesday" is a mystery – a.k.a. my day to call on unsuspecting staff. The Senior Division has Thursdays – and they are pictured in today's blog leading "Not Quite Yoga with Dan." Friday belongs to Outdoors – never a dull moment with those fellows. We sleep in a bit on Saturday (knowing that we will be together as a whole camp for Shabbat Services later in the morning). Sunday belongs to the Trainee Division – if we can get their staff and campers to wake-up!?!
Our line-ups also provide the time to hand out awards and acknowledgements. Activity leaders will present prizes and/or "Airy Champion" t-shirts to the deserving campers. We also play everyone's favorite game of chance … "Wheel of Birthdays." Today the lucky spinners won a bunk party in Culin-Airy, and bunk time at Go Karts. The birthday boys also received a bag of (non-food) goodies, were serenaded with a rousing rendition of "Happy Birthday," and the promise of a birthday cake delivery for the bunk to enjoy.
Line-Up wraps up with any announcements for campers and staff, and then hamotzi. At this point, the boys are mostly awake and their stomachs are growling. Off to (staggered) breakfast!
[bq_color]
Today's Birthdays

Adam – Bunk 10
Noah – Bunk 5
[/bq_color]
Today's Menu
[table "" not found /]
Today's Weather

High: 84°F | Low: 70°F
A beautiful day at camp from start to finish!
Marty Rochlin
Director