Airy Blog
Director's Blog – July 10, 2016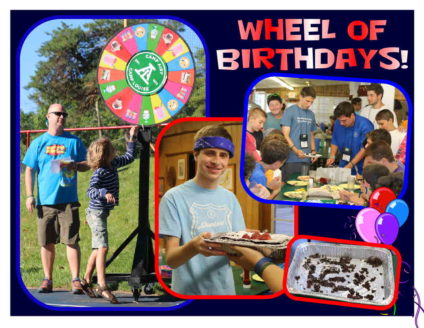 It's back and better than ever! With some fresh paint and a facelift, the WHEEL … OF … BIRTHDAYS is nothing short of tremendous. We know from talking to campers and families that birthdays at camp are a big deal. Our team at Airy wanted to make sure that campers who celebrated a birthday during camp truly felt like big shots. We also wanted our celebration at Airy to be unique.
Here's how it works – at our daily, campwide morning line-up, we call up the day's birthday boys. Each receives a bag of birthday goodies. Then after a brief introduction – name, bunk number, age, and sometimes a quirky fact – it's time to spin the wheel. Prizes are for the bunk, so the birthday boy is able to provide for his bunkmates prizes like breakfast in bed, or a milkshake party, or being first in line at a meal buffet. After the spins, all of camp will sing "Happy Birthday" to the birthday guy(s). And of course at either lunch or dinner, a homemade cake for the bunk is served!
And we can't forget the staff! When a staff member has a birthday at camp, he or she is part of the fun too. Of course we sing, but instead of the Wheel and a bunk cake, the staff member receives a gift card for Sheetz. Sheetz is a convenience store just down the road from camp – how convenient! We also celebrate one "unbirthday" for staff – just because.
Our birthday celebrations are meant to be special, and also different from how a birthday might be celebrated back home. In many aspects of camp, we are intentional about providing experiences that are unique to camp and our community. Camp is truly great in 21788!
Marty
Today's Birthdays
Evan
Noah
Adam
Today's Menu
[table "" not found /]
Today's Weather

High: 82°F | Low: 61°F
A beautiful day to welcome our Session 2 campers to Airy.