Louise Blog
Director's Blog – July 10, 2016
L'hitraot To Our Israeli Campers!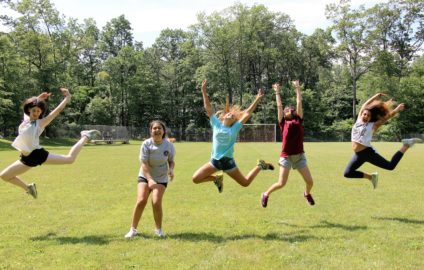 It is so hard to believe that two weeks of camp have come and gone. Today we welcomed a whole bunch of second two weekers and lots of five weekers, too! In addition, our five Israeli campers (see picture) headed back home today to Ashkelon after spending an incredible two weeks at Camp Louise.
Back in April, Marty (Director of Camp Airy) and I were in Israel participating in a training week with our Shlichim (Israeli counselors). Before coming back to the States, we traveled to Ashkelon (Baltimore's sister city) to do our first international camper recruiting event! We met with families who were interested in possibly sending their children to Jewish overnight camp in America. Fast forward to summer…..and 10 Israeli campers boarded a plane to come to camp – 5 to Airy and 5 to Louise. And today they are heading home with lots of memories from their time at camp!
I spent some time with the Louise campers today, reflecting on their past two weeks. One of the girls told me that she has wanted to come to summer camp in America ever since she saw Camp Rock about 7 years ago. The girls said they wanted to meet new friends, experience a different way of life, and come to America. One said, "It has been a dream of mine!"
For one of the girls, her mom worked at a camp as a counselor and she wanted her daughter to have the same amazing experience.   Another camper said her mom never got to be a counselor, but always wanted to, and she wanted her daughter and son to have the opportunity, so they both came this year to Louise and Airy. A third camper said that her mom was nervous for her to come but was so proud of her for doing it. That camper commented that she knows her mom is counting down the days for her to get back home to Israel.
One said that before camp, she was a little nervous about what the girls here would be like. Now having experienced Camp Louise, every single one of them had positive things to say:
I really, really like this place!
The people are really nice and kind.
The counselors know how to listen and help.
There is a lot of green here, a lot of nature.
Everything is so beautiful!
When I asked them about their favorite activities, they listed gymnastics, boxing – to get their energy out, Adventure Park, and even learning to play guitar.
The girls said they will be happy to see home, but sad to leave camp. One commented that she would like to come back next year for four weeks….if her mom says it's okay. And she is going to bring some friends, too!
So today, these five amazing girls said good-bye to Camp Louise (for now) with lists of phone numbers, Instagram and Snapchat contacts for all of their new friends, filled suitcases with probably a few less socks, their new camp t-shirt, a Louise Lends a Hand bracelet, a couple of arts and crafts projects, a box of tissues for the tears they are shedding from leaving their new camp friends, and tons of memories to share with their families and friends in Israel.
L'hitraot and Laila Tov!
Alicia
[bq_color]
Today's Birthdays

Danielle – Bunk 24
Gabby – CIT
Klara – Staff
[/bq_color]
Today's Menu
[table "" not found /]
Today's Weather

High: 84°F | Low: 63°F – An absolutely perfect day….sunny, breezy, simply gorgeous!