Louise Blog
Director's Blog – July 10, 2017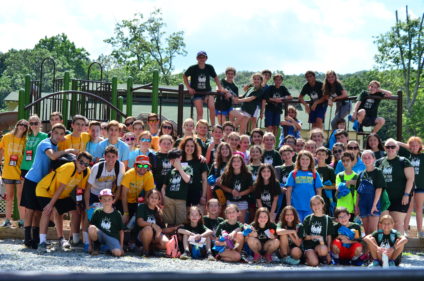 BROUGHT TO YOU BY GUEST BLOGGER STACY SCHWARTZ FRAZIER – ASSISTANT DIRECTOR, CAMP LOUISE
How exciting to be a guest blogger today!
I have the great privilege of heading up camper recruitment during the year.  I get to visit synagogues, schools, camp fairs and best of all, I get to meet lots of amazing families who are interested in becoming a part of our Camps Airy & Louise family.
One of my visits this year took me to Temple Rodef Shalom in Northern Virginia.   We are so thankful to already have lots of congregants from Rodef who come to Camp Louise but we tried to put our heads together and engage some others who might not yet know of the awesome summers we love so much up here.
Rodef has an incredible day camp and today, we hosted 47 of those day campers at Camp Airy for a day of fun!  And boy was it fun!    The kids got to experience Mega Zip, GoKarts, Culinary, Creative Arts, Folk Dance, Parkour, Multimedia, Skate Park and just the overall feel of camp.
Some of the comments I heard throughout the day:
"I am DEFINITELY telling my Mom to send me to Camp Louise next summer!"
"I was scared at first to try some of the things, but everyone cheered me on."
"Everyone here is so nice!"
I was beaming with pride as we showed off our summer home and more importantly, our kind and welcoming community.
I have no doubt we'll be seeing some of these day campers' faces next summer at Airy & Louise!
Stacy Schwartz Frazier
Assistant Director, Camp Louise
[bq_color]
Today's Birthdays

Klara – Staff
[/bq_color]
Today's Menu
[table "" not found /]
Today's Weather

High: 86°F | Low: 67°F – Another gorgeous day in 21719!