Airy Blog, Louise Blog
Directors' Blog – July 10, 2018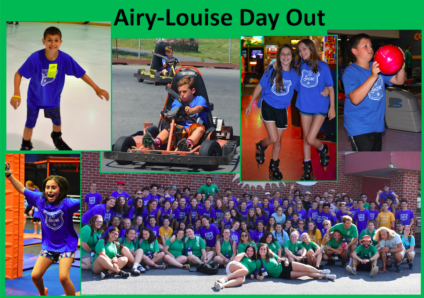 "A Day Full of Playdates"
Everyone in both Camps today, from the youngest camper in Unit A to the oldest CIT in the Trainee Division, went on an Airy-Louise trip.
Here's the rundown on the Trainee Overnights:
CITs were on their buses before 7
They left so fast I bet the bread was unleavened
The Via Ferrata was the destination
A beautiful and scening West Virginia location
CAs hit the road for a triple threat trip
Hiking, canoeing and biking all sound pretty hip
Might be fun to fall out of the boat and take a dip
Cedar Point in Ohio will host the STs.
Roller coasters and pizza – take me please.
Someone will win a giant stuffed creature with the greatest of ease
And now for the day trips in Junior and Senior Camp:
Unit A jumped at SkyZone – boy did they have bounce in their steps
It was bowling for Unit B – we'll spare you the details.
Unit C hit the ice on skates – cool eh?
Family Recreation Park for Unit D – how appropriate for brother / sister camps?!?
Unit E Roller Skating – everyone had a WHEELY good time!
Another bowling trip – this time Unit F. It was striking.
We are happy to report a good time was had by all!
Marty & Alicia
Today's Louise Birthdays
NONE … Happy UN-Birthday to everyone!
Today's Airy Birthdays
Xander
Evan – staff
Today's Louise Menu
[table "" not found /]
Today's Airy Menu
[table "" not found /]
Today's Louise Weather

High: 86°F | Low: 67°F
Beautiful day with clear skies and sun shining through!

Today's Airy Weather

High: 90°F | Low: 69°F
What a beautiful week we're having!