Airy Blog
Director's Blog – July 10, 2019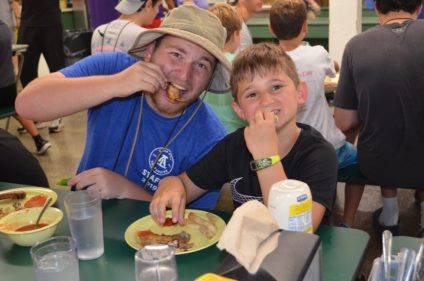 "Food Glorious Food"
Today at Camp Airy was Wing Night … during the day. You see, Wing Night has been on the Tuesday night that coincides with the Trainee Overnights. We aren't neglecting the trainees – they get their own wing meal a bit later in the session. The smaller crowd lets us feed the hungry masses with plenty wings to go around. Anyway, it became a day event because we were at Camp Louise last night for dinner and a show.
But I digress …
The popularity of Wing Night got me thinking about what are famous (or infamous) camp meals from throughout the years. For some help, I asked a close group of friends who have been in camp from present day back to the mid-1980s. This is our collective list:
Pizza Bagels – it's a fan favorite and our opening day meal every session, every summer. Throw in the curly fries and chocolate milk, and you've got a classic.
Breakfast Cereal – today, breakfast features a cereal bar filled with all of our favorites. Once upon a time, tables were preset with mini cereal boxes … again, a plethora of flavors. We used to stack the boxes on our bunk table and see which bunk in the unit had the biggest towers. Except on days when we had …
Egg McAiry – Egg + Cheese + Soft bun = morning sandwich deliciousness.
Cold Fried Chicken served on a water trip – None of us can explain why or how, but that chicken is SO GOOD. In fact, one of the guys who has a daughter at Camp Louise said she went on a tubing trip and wrote in a letter home "the fried chicken was so good." That's 30 years of delicious fried chicken consistency!
Other fun food facts:
For every Airy-Louise get-together, you can be sure that the meal featured red sauce and/or garlic bread. Not so much anymore.
Challah on Shabbat – deelish, and even more deelish with peanut butter and jelly on it!
Anything cooked by the Outdoor Department … then it was Chili, today it's Bob's Brisket.
And s'mores … as simple and elegant and scrumptious now as they were then.
All this food talk is making me hungry … might be time for a Cabana milkshake and grilled cheese.
So long until the next blog,
Marty
Today's Birthdays

Xander
Jack
Evan – Staff
Today's Menu
Breakfast , Lunch , Dinner
Egg McAiry | Veggie Sausage | Cereal | Fruit | Yogurt , WING DAY | French Fries | Celery and Carrots | Salad Bar | Pasta Bar | Cookies , Pizza | Mixed Veggies | Caesar Salad | Salad Bar | Pasta Bar

Today's Weather

High: 86°F | Low: 69°F
A sunny and beautiful day.