Airy Blog
Director's Blog – July 11, 2015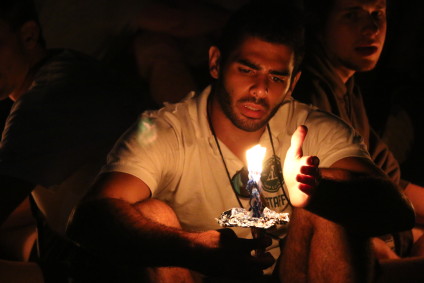 We know and love that our Airy boys are energetic, full of spirit, and ready to embrace any game or activity that comes their way. We're playful, we hoot and holler and cheer, and we love to eat.
There's another side to us too … the softer, gentler side. And there's no better way to try and chronicle that than by talking about Havdalah. Havdalah is a religious ceremony that marks the symbolic end of Shabbat, and the start of a new week. The rituals involve lighting a special Havdalah candle with several wicks, blessing a cup of wine (grape juice in camp), and smelling sweet spices.
Saturday night marked the last Shabbat of the first four weeks of camp. The weather finally relented, so we were able to have our Saturday morning services outside at the Cohen Theater, and our Havdalah service on Village Row. Earlier in the day, our Unit B campers participated in Havdalah "five senses" activity to gain a better understanding of the customs. Later that night, they participated in the service and were able to live and practice what they learned.
Our Airy Havdalah service brings the whole camp together, sitting in bunk circles, joining in songs and the blessings over the grape juice, spices, candle, and the whole Havdalah itself. The ruach and high-energy that comes along when our campers sing "Bim Bam" or Birkat Hamzon is toned down, and bunks link arms and sing a peaceful "Shavua Tov."
One rendition of the song goes like this:
The twisted candle brightens our hearts, as together we watch the Sabbath depart.
We smell the spices, taste the wine, as the stars in the sky begin to shine.
Shavua tov, may you have a good week, may you find the happiness you seek.
Shavua tov, may your week be fine, may it be as sweet as the Sabbath wine.
We say goodbye to a special friend, another Shabbat has come to an end.
After the service, our campers head back to bunks, getting a sweet treat as they leave.
We wish you all good week, a week of peace … may gladness reign and joy increase. Perhaps some of our Airy Shabbat customs will find their way into your homes after camp and throughout the year. Shavua tov!
[bq_color]
Today's Birthdays

none
[/bq_color]
Today's Menu
[table "" not found /]
Today's Weather

High: 84°F | Low: 64°F
A picture-perfect day at camp!/blockquote>

Marty Rochlin
Director