Airy Blog
Director's Blog – July 11, 2016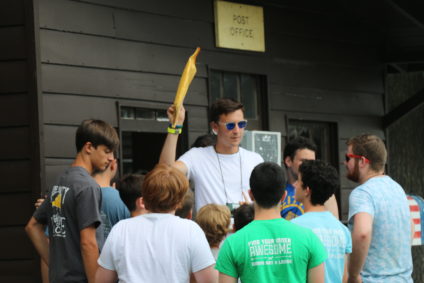 If you ask a student about his favorite class or period in school, you might get an answer like "lunch" or "recess." At camp, we have lots of cool stuff, but you'd be hard pressed to find anyone who doesn't say "Mail Time!"
I can relate. When I was a camper, mail time was a big deal. Every day after lunch, we'd crowd around the post office as our counselor waited in line at the window for the mail. In the hours leading up to mail time, we would peak in the window and look for our bunk's box. The fuller the better! A full box certainly meant that someone was getting mail that included baseball box scores and standings, or a few dollars for campteen.
Then there was the matter of mail from Camp Louise. Sometimes the Louise mail made it into the bunk box. Other times, the mailbag from Louise didn't arrive in time for mail call. There were times where we'd be at the bunk hanging out and playing cards when a counselor would appear and announce "Louise Mail." We'd freeze. Was there a letter for me? As younger kids, we were embarrassed. As older campers, we were nervously excited.
Nowadays, camp email also has an electronic feel – sort of. Campers can receive an email from family members through CampInTouch. Sure, we print it and it is delivered in the bunk box. And campers can write back via special stationary that is faxed to the recipient. The "golden rule" of mail is the same now as it was then … you gotta give to get. In other words, write a letter home (or to Grandma Sadie or Aunt Bertha) and they will send you something back.
The camp postmaster is a popular person – some of the names that come to mind from over the years are Ben Wenglin, Dave Frye and Toni Greenberg. They know how to deliver.
PS – Subliminal message reminder: the package that the counselor is holding up complies with our "flat" requirements … "Our Camp Post Office accepts parcels that are in an envelope that is no larger than 12" x 15" x ¾" and do not contain any food items."
Marty
Today's Birthdays
Esther – staff
Today's Menu
[table "" not found /]
Today's Weather

High: 84°F | Low: 63°F
A gorgeous day – can't say much more!