Airy Blog
Director's Blog – July 11, 2018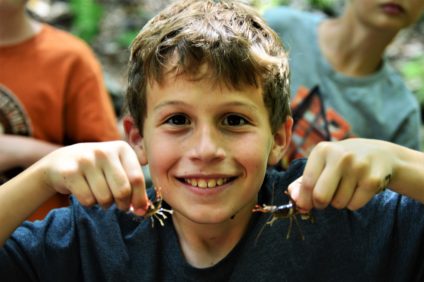 "If I Could Talk to the Animals"
Hail Cesar! I'm not talking about salad dressing, although the salad at dinner was really good. Cesar may be the dog whisperer, but at Airy we are the "what-kind-of-insect-is-that-anyway" whisperer. What are they saying? I'm glad you asked. We BUGGED their conversations and caught some snippets:
"The camper holding us has a grin which makes me wonder what he's up to … are we about to become fish bait? Dissection subjects? Chocolate covered?"
"I said 'these campers are a neat bunch,' not 'serve us for lunch!'"
"This camp is amazing … I heard some of the campers talking. They have SO MANY activities and options – sports and arts and drama and music and nature and outdoors and extreme sports and swim and hike and multimedia … and CULIN-AIRY … hey human, don't get any ideas!?!"
I'm sure there were many other ideas CRAWLING around the heads of those critters. I'll move away from the puns (at least for now) to talk about our programmatic plan at Camp Airy. So much of what we do at camp is based on the idea of providing campers with the chance to participate in activities they don't have at home, alongside people they don't get to spend quality time with at home. We aim to offer a balance of individual choice along with assigned bunk periods. Down the line at each older unit, campers have likely seen and tried all activities. This informs them how to customize part of their schedule – based on experiences all over the mountain. The bunk parts will never fully go away, as that's a place where friendships are formed and memories are made. At the same time, it is fun to have the bunk connections and be able to connect with even more campers at the various activity areas.
It's the best of both worlds – if your bunkmate is not into soccer like you are, a boy next-door or across the quad may be someone who is World Cup Crazy like you. That's a connection and the beginning of a friendship, while the bunk connections continue to strengthen during card games, campouts, porch ball, and spills in the dining hall.
Back to to the creepy crawlies in the picture … they are available for weddings and Bar Mitzvahs after August 12. I hear they do a great walkie-talkie impersonation (get it?)
Marty
Today's Birthdays
Alex – staff
Today's Menu
[table "" not found /]
Today's Airy Weather

High: 85°F | Low: 64°F
I feel like a broken record – another beautiful day!