Louise Blog
Director's Blog – July 11, 2019
VISITORS FROM BALTIMORE
Throughout the summer, we have visits from synagogues, youth groups, day schools and other organizations. Our campers love to welcome these visitors and show off how proud they are of Camp Louise!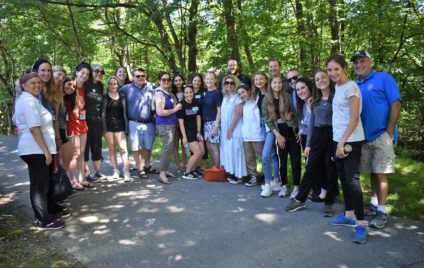 This summer, we had the privilege of having members from the Baltimore Associated, Ashkelon & Odessa Partnerships, Krieger Schechter Day School, and Chizuk Amuno Congregation all come on the same day to visit us and all of our Odessa & Ashkelon campers. We greeted the team and took them for a tour around camp – showing them our Adventure Park, Greenhouse, Solarium and Jill's Place. Along our tour, they were able to hear about camp from some of our staff members (an international Unit Leader from Wales, Tech Department member from Israel, and our Odessa Chaperone).
After the tour, we had lunch together. Although the campers shared that they have enjoyed the food – they did say that Shabbat was their favorite because they got to have soup!
During lunch, the campers were excited to talk about what they have been doing at camp. One of the campers said, "The pool is my favorite place because everyone can be together and share about their day at camp with friends from my bunk." The campers also shared that they were enjoying archery, tennis, Adventure Park, and basket weaving in Art & Crafts. They also talked about how much they have enjoyed the evening programs, especially the Camper Talent Show.
This is the first time the girls have had an experience of being in a bunk bed, and they loved that they can personalize their bunk with their names and hang pictures to make it their own.
We may not all speak the same first language, but we have so much in common with our new friends from Odessa and Ashkelon! It's a win-win for all of us!
Goodnight. Shalom. Nadobranich.
Alicia
Today's Birthdays

Happy UN-Birthday to everyone!
UNIT SPOTLIGHT – STs

We have new friends in the STs! You would think that the highlight of our trip to Cedar Point Amusement Park will be the roller costars, but our STs ware actually busy finding new friends in the prize booth and winning human size stuffed animals. Among all the STs we probably have won more than 10 friends, Baylee, Bili, Moca, Ellie the elephant and many more. All the STs are very welcoming to them and cleared enough space on the bus ride home to cuddle.  I hope these new friends enjoyed the Outdoors activity tonight and that they don't need a wash.
Michal – ST Unit Leader


Today's Menu
Breakfast, Lunch, Dinner
Pancakes | Scrambled Eggs | Fruit Salad, Chipotle Lunch | Chicken | Tortillas | Rice | Peppers Onions | Pico | Salsa | Corn Salad | Tortilla Chips | Guacamole | Salad Bar | Pasta Bar, Spaghetti & Meatballs | Breadsticks | Squash & Zucchini | Broccoli & Cauliflower | Salad Bar | Pasta Bar
Today's Weather

High: 84°F | Low: 68°F – Sun and then rain and then clear for evening activities!