Louise Blog
Director's Blog – July 12, 2017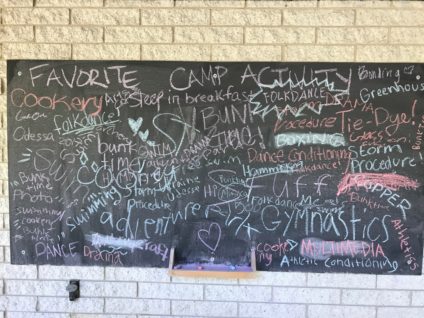 WHAT IS YOUR FAVORITE ACTIVITY?
I love reading our chalkboard outside the Dining Hall to see the question asked and more importantly the answers. When I saw this question, I stopped to think about how activities at camp have changed through the years:
What is your favorite activity?
When I was a camper back in the 80s, I remember making copper enamel bowls with Martha and leather key chains with Selma. I remember going to the window in the arts and crafts building to pick out my stuffed animal pattern and to get my felt and batting. But I think my all-time most favorite activity was playing jacks.
Times are different now. We have a long list of departments and activities that our campers participate in every day – arts and crafts, athletics, dance, drama, farming, folkdance, Israel, Jewish Life, song sessions, multimedia, music, nature/greenhouse, outdoors, and swim.
The beauty of today's camp schedule is the philosophy behind it. We want all of our campers to experience everything they can. EVERYONE has some choice in her weekly activities. Each unit (grade group) gets together at the beginning of the week to choose activities. Younger campers choose a few periods a week. For the younger campers, we want to expose them to everything. How do you know you like to shoot an arrow in archery or climb the Adventure Park or create a video in multimedia if you have never done it before?
As the campers get older, they have more and more choice in their schedule. In addition to the choice activity periods they select, campers in Senior Camp and our Trainees can also sign up for workshops – a three day activity where they can enhance a skill or work on a longer project. Some favorite workshops include Boot Camp Athletics, Light Writing with Multimedia, Zumba Folkdancing, Sharpie Tie Dye, and Top Chef Cooking Competition. It's fun to be a judge in Cookery on those days!
We love that our campers get to try the activities before signing up each week. They may participate in something the first week that they love and then they may have the opportunity to sign up for it the second week.
But to tell you the truth – I'm still trying to find the jacks sign-up sheet….
Alicia
[bq_color]
Today's Birthdays

Hannah – Bunk 16
Noa – Bunk 27
Ellie – Counselor
Hadar – Counselor
Hannah – Outdoors Counselor
[/bq_color]
Today's Menu
[table "" not found /]
Today's Weather

High: 85°F | Low: 73°F – Sunny day!