Airy Blog
Director's Blog – July 13, 2015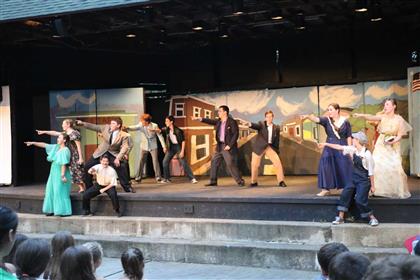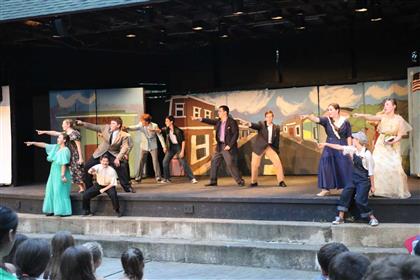 Let me be perfectly clear in the next few phrases as I describe the awesomeness of our Airy/Louise campers and staff: The four week session began on June 21. Auditions for "The Music Man" and "Legally Blonde" began on June 22. In the time span between June 23 and July 11 (that's 19 days, folks), talent and creativity and dedication were the calling cards of campers and staff. The result was a wonderful theater experience for our camp patrons.
I did not have the benefit of seeing the show at Louise, as Airy's show director Sophie graciously offered me a role in "The Music Man." Thankfully, my pulling of the "Wells Fargo Wagon" did not detract too much from the real stars of the performance. Audience members roared with approval and gave thunderous ovations when their friends and bunkmates completed scenes. Even the stage crew, dressed in stealthy black garb, elicited cheers from the audience. The cast and orchestra had everyone singing along with "76 Trombones" and clapping with "Trouble in River City." At the show's end, the cast members led the audience of Airy and Louise Senior and Trainee Division campers in our "Goodnight Song." Everyone then headed down to the gym for an ice cream and music social.
With the Airy-Louise crosstrips – and River City, IA – in our rearview mirror, we are somehow in the middle of Camp's fourth week … which means OLYMPICS is about to begin! It also means that campers head home on Friday. What a blur so far! Time does fly when you're having fun.
[bq_color]
Today's Birthdays

Mitchell B.
Eli R.
Louie R.
Scott H.
[/bq_color]
Today's Menu
[table "" not found /]
Today's Weather

High: 81°F | Low: 64°F

Yet another picture-perfect day at camp!
Marty Rochlin
Director