Airy Blog
Director's Blog – July 13, 2016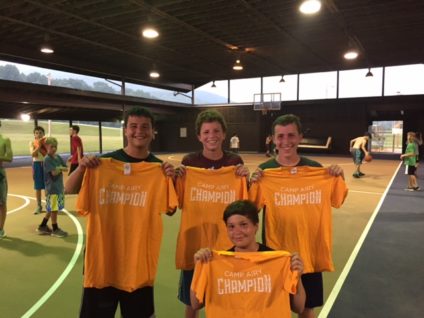 I spent the Elective period on Wednesday evening with campers participating in the Senior Camp 3-on-3 basketball tournament. Greg and Termaine from our Airy athletics department organized the double-elimination event for campers. Six teams gathered in the Chernak Gymnasium for the festivities. (More teams were signed up, but a combination of weather, rescheduling, and the New York City / "School of Rock" trip shrank the field. This kind of thing happens when SO MUCH awesome stuff is happening every day.)
I was joined by senior camp division head "Clay", quite the basketball player himself (in contrast to yours truly, whose basketball game is a work in progress). Clay used to run basketball clinic here at Airy, and was a participant in the "Airy Basketball League" (ABL) many moons ago. On this evening, along with Greg and Termaine, he donned a whistle and worked as an referee for one of the courts.
What ensued next in the tournament truly made my heart happy. These teams played hard. They played clean. They played together. And the skill! They took and made jumpshots that I only dream about. One team in the tournament lost its two games by small margins, the second to the eventual champion. One of their players was pretty dejected. He wasn't being a bad sport or a complainer, he just wanted to win and keep playing. I know this from personal experience – after a tough defeat in whatever sport a camper might play, a walk up the Airy hill clears the mind. By the time you get to the top, what might have been bugging you at the bottom has faded.
Congratulations to the winning team – Jonathan, Adam, Danny, and Coach "Gumby." Airy Champion shirts and Cabana milkshakes for them. Somehow, I was roped into picking up the tab.
Marty
Today's Birthdays
Mitch – staff
Eli
Louie
Today's Menu
[table "" not found /]
Today's Weather

High: 88°F | Low: 72°F
Sun and rain, off and on, early and late