Airy Blog, Louise Blog
Directors' Blog – July 13, 2017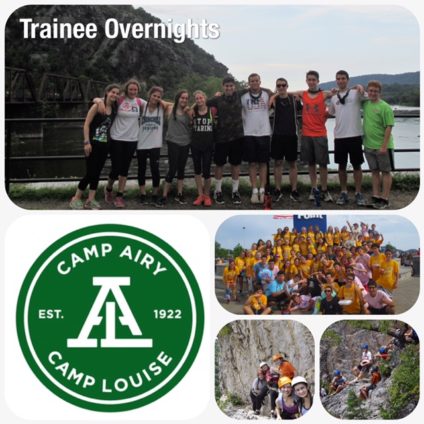 Graduating from each division here at Camps Airy & Louise is a pretty special thing. When you complete Junior Camp, you receive a pillowcase so you can dream of Senior Camp. Campers also get some additional choice activities added into their week, as well as workshops and clinics (3 day activities) where they can really develop a skill or work on an extended project.
When you graduate from Senior Camp to Trainee Division, not only do the campers get a cinch sack but they also receive lots of privileges and responsibilities. One big perk that a lot of the trainees look forward to is their overnight.
Each group of trainees participates in a coed overnight. The STs (Senior Trainees – rising 10th graders) travel to Cedar Point Amusement Park in Ohio. The CAs (Counselor Assistants – rising 11th graders) have a triCAthalon camping experience and the CITS (Counselors-in-Training – rising 12th graders) go to Nelson Rocks in West Virginia for an incredible rock climbing adventure.
We had the opportunity to speak with some of our trainees today about their experiences on their overnights. The STs had "so much fun!…It was so chill and relaxing."
After a long, but fun bus ride, they were given their random room assignments and they checked into their hotel. They spent time at a water park, stopped for dinner, and then went back to the water park.
The next day, they headed to Cedar Point Amusement Park. They were placed in random groups by the following categories – all rides/some rides/no rides. The STs loved being placed into random groups. They told us how great it was to get to know each other better – the boys and the girls.
The CAs had an amazing triCAthalon camping experience with a 14 mile bike ride, a 3.5 mile hike and a 4 mile canoe trip. The CAs we spoke to loved it telling us that it was even better than last year's overnight! With all of the planned bonding and the great campfire, they got to know each other even more – the girls and the boy altogether! The biking was flat and relaxing and beautiful. The ice cream break 7 miles in was definitely a highlight too! The hike was a little tricky but all downhill. Depending on who was in the front or the back of the canoe, the difficulty of paddling got mixed reviews – hard or easy.
After this incredible two day experience, the CAs felt a great sense of accomplishment and they are already looking forward to next year's CIT overnight!
And then we get to the CIT rock climbing and hiking extravaganza at Nelson Rocks in West Virginia. The words that the CITs used to describe their experience….amazing…great bonding…terrifying…teamwork…life changing…rewarding…awe inspiring…breathtaking…empowering….one of the hardest things ever done but also the most rewarding!
With the tremendous encouragement by their peers, many of the CITs who don't especially love heights got over their fear and accomplished this amazing feat of literally climbing up a mountain on staples and rocks while harnessed in.
No matter which trip they went on, they all had a great time but they were also pretty happy to get back to camp…and shower!
Alicia and Marty
Today's Airy Birthdays
Mitch – staff
Today's Airy Menu
[table "" not found /]
Today's Airy Weather

High: 88°F | 73: 70°F
Warm with a side of muggy
Today's Louise Birthdays
Drew – Food Service Manager
Emma S. – Counselor
Today's Louise Menu
[table "" not found /]
Today's Louise Weather

High: 90°F | Low: 75°F – Warm, warm day!