Airy Blog
Director's Blog – July 13, 2018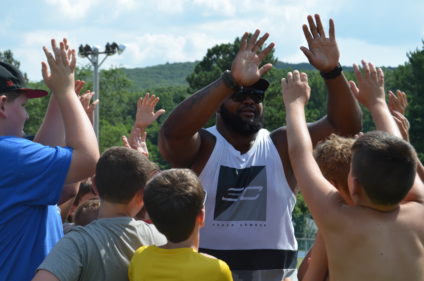 Today was definitely the day that disproved that Friday the 13th is an unlucky day. Otherwise, there's no way we would have had the opportunity to host Brandon Williams from the Baltimore Ravens at camp today. A member of our camp team knows Brandon. A phone call led to comparing calendars, which revealed a date that Brandon and his wife Alyssa would be local for a wedding. We had our date. Now we needed a reveal plan to knock the socks off our campers.
We wanted the whole camp to be present for the first announcement. At Thursday lunch (all Trainees returned from their overnight trips on Wednesday evening), we began the hype. Since I sometimes play around with silly announcements in the dining hall, it was crucial to let everyone know that this one was legitimate. I said that we would have a real NFL football player coming to camp on Friday afternoon. I clarified – a current, not-retired player. I elaborated – regardless of a camper's team loyalty, the visiting player is very accomplished and it's rare to have someone that is one of the best in their field visit camp. I went on – the player is a Baltimore Raven. Loud cheers … some groans and boos. The last part of the announcement – "he's bigger than Bob Matthews." That drew some oohs and ahhhs.
I would say no more. That evening's "D'Airy" featured a football player's picture, but with his head obscured with a big question mark. His career stats were listed. On to Friday morning, where we gave no new information. Campers and staff threw out wild guesses – not Terrell Suggs, not Lebron James, not Joe Flacco. Camp headed its separate ways after breakfast, still scratching its collective head. Finally, the much awaited lunch time and big reveal. Back on the microphone again, I reviewed all of the previous hints, and added in some of the details from his football card … college, height and weight, and a mention of his recent lucrative contract. "Your guest is Brandon Williams."
Loud ovation. Big cheers. Campers and staff excitedly finished their lunches. Around 2 pm, Brandon and Alyssa arrived at camp. Out of a BIG car stepped a BIG man … with a warm smile. If you forget for a second that he's a professional football player, you could easily picture Brandon as one of our Airy counselors. He played football and hung out with campers for about two hours. He played all-time quarterback (he's got quite the arm, and accurate too) and cheered for our campers as they made plays in the field. He hopped between games that our staff Greg, Cam and Termaine had arranged. Brandon signed countless autographs – on hats, shoes, shirts, backpacks, chairs, and even a forehead or two. He posed for a ton of pictures.
As Brandon and Alyssa drove off, I thought about camp and its impact. Many staff here, myself included, grew up at camp and embrace the chance to work here with children. And so many staff who did not grow up at camp choose to return for multiple summers because the work is fulfilling and fun. When a place is rich in its staff commitment, we know that campers will have fun, be cared for, and walk away with special memories. Meeting and playing football with Brandon Williams will be one of those memories. His visit was made possible, and was ultimately super successful, due to the efforts of dedicated staff who oversaw the planning and implementation. And kids (big and small, young and old) had a blast.
Check out more of Brandon: Twitter – @BrandonW_66 and Instagram – brandonw_66
Marty
Today's Birthdays
None – Happy Un-Birthday to All
Today's Menu
[table "" not found /]
Today's Airy Weather

High: 86°F | Low: 66°F
Sunny, warm and beautiful – a great day for playing football!