Airy Blog
Director's Blog – July 13, 2019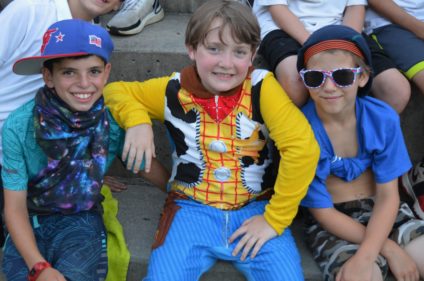 "Who Are You?"
I was on a phone call with a set of parents last session, and in the background I heard a bunch of noise. I offered to set up another time to talk, and they said "Nah, we'll make it work." I asked what was going on, and they replied they were at a concert – The Rolling Stones. Cool I thought – I had also been to a Rolling Stones concert … in 1989. These guys are still performing?!? That same year, I also saw The Who in concert. For those blog readers following along at home, that's where today's song lyric title came from in a round-about way. (If you're still with me, thanks.)
The three costumed young men pictured today made me think "Who are you?" Not in an existential way … not in a mysterious lineage Jon-Snow-Game-of-Thrones way … just literally, in those outfits – who are you?!? The guys were all decked our for an evening of "Let's Make a Deal" hosted by camp friend and alum Scott Black. Anyone who remembers the original game show with Monty Hall, or the newer reboot with Wayne Brady, understands that audience members dress up in outrageous or crazy costumes in order to increase their chances of being selected to make a deal.
The game show capped off a Shabbat here at camp where the whole day was different than the six that came before it. A sleep-in …a morning Shabbat service … an oneg … a full, free-choice afternoon filled with hobbies and free swim … a game show … a Havdalah service … a video of the week in review … and finally s'mores (s'mores were bumped due weather earlier in the week). As we enter the last week of this session, I do have a pretty good idea who these boys (and another 350+ like them) are: silly, serious, athletic, creative, bold, kind, curious, fun-loving. They are SO much fun to be around. And it always bears repeating – thanks for sharing your great kids with us at Camp.
So long until the next blog,
Marty
Today's Birthdays

Micah
Sam
    UNIT SPOTLIGHT – STs    

It's been a rollercoaster of a week for the STs up at camp. Well, not really at camp, but in Ohio! The STs went to Cedar Point amusement park in Ohio for our trainee overnight, and it was an amazing time. The bus ride was long, but it meant more time for our campers to rest and talk with one another as we headed up for an amazing two days. Whether at the water park, the hotel, the park, or the bus, all STs were having a blaST (get it, ST). As we head into our last week, we have a lot of Special Things (get it, ST) planned for our campers and are excited, but sad, to see them finish up their time here at camp and see the bonds they have built. This past week was amazing, but this next week will be even better.
~ Dan, ST Unit Leader
Today's Menu
Breakfast , Lunch , Dinner
Scrambled Eggs | Mini Bagels | Cereal | Fruit | Yogurt , Make Your Own Deli Sandwiches | Chips | Salad Bar | Pasta Bar , Pasta Night – choice of sauces | Garlic Bread | Prima Vera Veg | Salad Bar | Pasta Bar | S'More Pies

Today's Weather

High: 87°F | Low: 71°F
Yet again … a splendid sunny day!