Airy Blog
Director's Blog – July 14, 2016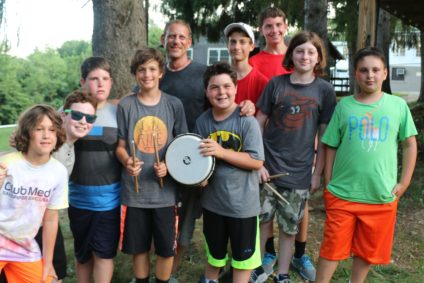 Tonight marked the second annual "Airy Percussion Project" drum exhibition. Started in 2015, tonight's performance was the end of six days of percussion instruction and practice. Airy's drummers worked under the tutelage of Glenn Grossman and Naomi Less. Blog readers that have daughters at Camp Louise may recognize those names as the musicians who lead and teach in the "Jewish Chicks Rock" program.
The sessions are about more than music. The boys who audition and participate are taking a risk and stepping beyond their comfort zone. They have the guts, and also the humility, to sit and work with professional musicians day in and day out. The Camp Airy Music Pavilion is a few steps from my office, so I heard the rehearsals every day. Practice and repetition is hard, and I'm sure there were moments when people considered doing something easier. The evidence tonight was clear – the hard work paid off, and the Airy Percussion Project was a success.
Finally, to let you know the kind of people that we have around here at Camp Airy, I'll share this anecdote that was passed on by a member of the Airy medical team: "We had a sick Camper admitted at the Health Center. He was supposed to be in the percussion show, but missed it. Glenn came to visit him – nobody asked him to – and he sat with the Camper and spent time chatting with the boy, and it was an amazingly tender moment and very meaningful. Glenn showed exactly why we are here and why he and Naomi are so well received. We all saw it and wanted you to know."
Now you know too.
Marty
Today's Birthdays
Gabe
Leo
Matthew
Jordan – staff
Today's Menu
[table "" not found /]
Today's Weather

High: 93°F | Low: 72°F
HOT!