Airy Blog
Director's Blog – July 14, 2017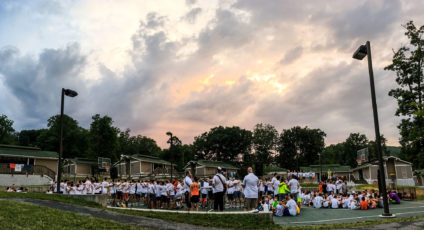 "You've Got a Friend in Me"
What a wonderful song that was part of our song session tonight. This week's Shabbat is special, as it is the first and only Shabbat at Airy for these two-week campers. The evening got off to an ominous start, as the threat of a storm forced our services indoors. By the time we emerged from dinner, the weather had improved and we were able to gather for song session outside at the Village Row basketball court.
Tonight's guitarists – Shy, Seth and Doug – played a fun mix of Shabbat classics and pop / folk tunes. Our shlichim shared some of the spotlight as they helped with everyone's favorite repeat-afer-me song, "Shigaon." Rachael led the group in another Israeli dance session, as the sounds of "Golden Boy" filled the air. Campers laughed and danced through "The Hokey Pokey" and they swayed arm-in-arm for our "Goodnight Song."
In attendance tonight were a number of new staff members who checked in for Week 3 and/or Week 4, as well as a collection of staff spouses and weekend volunteers. Their faces were priceless – it was clear that they didn't expect to see 500+ campers and staff so engaged and excited. I am so proud of how our boys, led by the staff, participate in our Shabbat songs, dances, etc. week in and week out. Their energy – and smiles – make it so much fun.
As we brought the festivities to a close under a beautiful evening sky, it occurred to me that this evening was bitter-sweet. Campers and staff were focusing on getting a sweet treat from campteen and getting a good seat for movies. At the same time, I couldn't shake the thought that this session's group of young men will be leaving in less than a week. It will fly by – Outdoor Day, the Airy-Louise shows, Olympics and more.
Where is the pause button?
Shabbat Shalom,
Marty
Today's Birthdays
Gabe
Leo
Matthew
Jordan – staff
Today's Menu
[table "" not found /]
Today's Weather

High: 89°F | Low: 72°F
Very warm and humid