Airy Blog
Director's Blog – July 14, 2018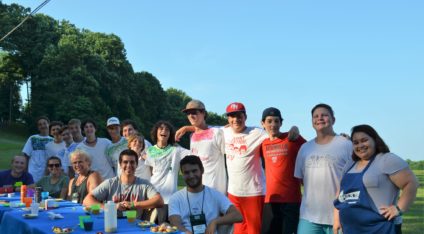 A Day of Rest … Airy Style
Shabbat is a time to rest and rejuvenate from a full(filling) week. On Shabbat at Camp Airy, we add our own twist. We take a break from the schedule structure that fills the other six days, and use the day to experience camp differently. This Shabbat included a spirit-filled senior camp and trainee basketball contest, performances from Jewish-themed improv team, a "F-I-9-E" dining experience from Bunk 9, and of course Havdalah and the Airy week-in-review video.
This week's value at Airy was "courage," and our "Mensch on the Bench" winners were recognized during Shabbat services for their success in conquering new and unfamiliar areas of camp. Whether it was squashing their fear of heights by going down the Mega-Zip, or surpassing the jitters of making a new friend, our campers and counselors were warmly celebrated for all victories.
We were extremely lucky to host "The Bible Players," an improv group from Brooklyn, NY that travels to several camps during the summer "improv-ing Jewish lives." With comedy, wit and Torah text, the Players engaged all three divisions for interactive shows, improv games and workshops that left campers and staff doubling over with laughter. Their jingle, "we're the Bible playas, the Bible playas" will echo up and down the hill long after their departure.
As the shows wrapped up, our CulinAiry kitchens got started. For one night and one night only, Bunk 9 provided a 5-star dining experience that this assistant director describes as "the best meal so far this summer!" Their carefully selected menu consisted of a garden salad with apple slices, blueberries, and a homemade vinaigrette; roasted chicken, sliced potatoes, and Israeli salad; and berry puff pastries with chocolate drizzle and strawberry … as well as homemade donuts with warm caramel dipping sauce! With the help of CulinAiry department head Kim, Bunk 9 dove right into learning and embraced the art of fine dining. The food was delectable and the service impeccable, but the joy and smiles that were shared all around that dinner table could not be topped by anything – except maybe whipped cream!
Finally, we gathered as a camp for Havdalah. Indeed it was Shavua Tov – a good week. Somehow, we have only five days left of camp this session. We're excited to enjoy every moment of it.
~Rachael – Assistant Director
Today's Menu
[table "" not found /]
Today's Airy Weather

High: 90°F | Low: 71°F
Warm (others say hot) and Sunny!