Louise Blog
Director's Blog – July 14, 2018
DEDICATION OF JILL'S PLACE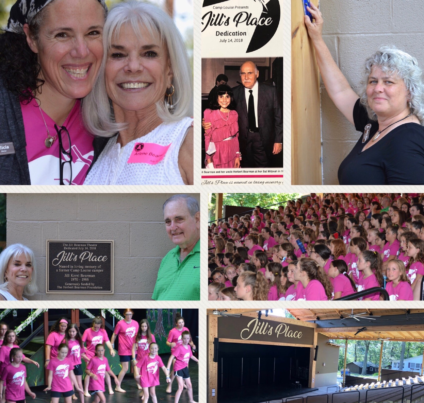 Tonight we held our long-awaited dedication of Jill's Place, our brand new theater and community gathering space at Camp Louise, named in memory of a former camper and my friend Jill Bearman. With a very generous donation from the Herbert Bearman Foundation, this dream project has become a reality.
Well over 600 people all decked out in pink shirts (Jill's favorite color) welcomed the Bearmans and some of their family and friends for this very special moment. I had the privilege to speak during tonight's dedication, and I wanted to share what I said:
I am so very proud to be a part of this dedication today. As the Director of Camp Louise, I feel so fortunate to have been a part of this project that has been a long time in the making.   And here we are today – in this beautiful new theater that we will use for years to come…a place we can gather rain or shine and come together as a community.
More importantly, I am so honored to be speaking as a bunkmate and good friend of Jill's. And I speak on behalf of the others sitting out there today who grew up with Jill at Camp Louise. The word "shenanigans" kept coming up to describe the time that as staff kids, Jill Rosenthal and Marji and Leslie Carmel would be running around with Jill pre-camp – like they owned the place. They played on the playground that is now the farm.
I remember being in bunks with Jill and doing a lot of what the campers do today – not the specific activities but more the bonding and hanging out. Back in the day, we had a lot of what we now call Bunk Time.
The intensity of camp relationships is like no other. You know that. I am preaching to the choir. I was so lucky that Jill and I also lived close at home so our camp friendship turned into an all-year friendship. But being at camp was most definitely the foundation of it all.
Nothing stopped Jill! She lived in each moment. She loved her fiends. She loved Camp Louise. She loved being a part of this community. And now she will forever.
Thank you,
Alicia
P.S. You can read more about Jill's Place and our wonderful donors at:
http://jewishtimes.com/80919/amphitheater-pays-tribute-to-spirit-of-louise-camper/news/
[bq_color]
Today's Birthdays

Isabelle – CA
Ava – Bunk 29
[/bq_color]
Today's Menu
[table "" not found /]
Today's Weather

High: 91°F | Low: 72°F
Another sunshiny day!