Airy Blog
Director's Blog – July 14, 2019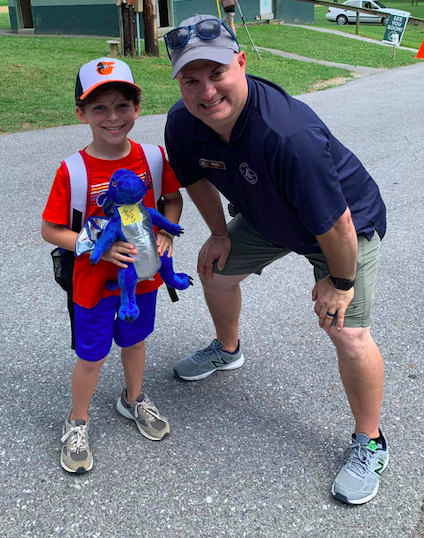 "Talkin' 'Bout My Generation"
Camper in Training Day is a day when Camps Airy & Louise open their gates to prospective families. Usually a family is looking ahead to the next summer, but sometimes there is a family who wants to come to camp NOW and if the space is there, we have been known to add a rookie or a three-weeker on the spot. Pretty cool.
Besides being a great way for camp to welcome in new people, Camper in Training Day is also a super strong magnet for volunteers. Two dozen volunteers joined in with our staff and CITs to put together a full-day, immersive, fun-filled, day-in-the-life program for 58 "campers" and their families. Our volunteers make the trek to camp and go back in time when they were active summer staff. For some, it may have been last summer, while for others they might be in a groove where their volunteer summers outnumber their staff summers. Young and older, our volunteers not only work hard, but share smiles and stories that make our visitors think "I can see myself happy here." Special thanks to Scott Black for coordinating a great day.
Speaking of smiles, let me tell you about this picture today. I am posing with Noah. Noah's dad Matt was a camper of mine last century. It was so much fun to meet Noah and swap stories with Matt. Hearing Matt reminisce about all that looked and felt the same, while not knowing exactly how to feel about new parts of camp, was heartwarming. Watching Noah meet new friends and walk all around camp like a seasoned professional was heartwarming-er. And in the most heartwarming-er-est moment of the day, Noah introduced me to the "critter" he made in Fun Factairy …named "Marty."
We look forward (fingers crossed) to Noah and lots of prospective campers like him joining us for summers to come.
So long until the next blog,
Marty
Today's Birthdays

Jordan – Staff
Leo
Matt
    UNIT SPOTLIGHT – Unit A    

Ever heard of the Airy Auction? Of course, not! It's the best kept secret of all of Camp Airy… Almost as good as the secret of Mount Airy Rock! (But we'll save that for another time). Any camper that has ever been in Junior Division, knows exactly the supreme secrecy and amazing thrill of being part of the best secret activity, ever! Well… I'm about to let you in on that secret! A couple days ago, Junior Division saved up all their Airy Dollars that they earned from doing good deeds and cleaning lamp shades, and used it to buy awesome prizes on offer by the Airy Spies… I mean, supervisors. Prizes included delicacies such as Milkshakes with Mollie, Elite Dining with Kim, Stargazing with Doug and the one that went for almost $4million, Party with Marty! The results are in, and we can confirm that every prize was won and an accumulative of $4,018,739 was spent at the auction. If only it was real money!
~ Levi, Unit A Leader
Today's Menu
Breakfast , Lunch , Dinner
Scrambled Eggs | Bagels and Fixins | Cereal | Fruit | Yogurt , Pizza Bagels | Caesar Salad | Salad Bar | Pasta Bar | Cookies , Thanksgiving Dinner | Rolls | Sauteed Veggies | Stuffing | Gravy | Salad Bar | Pasta Bar |
Today's Weather

High: 90°F | Low: 70°F
Yet again … a splendid sunny (and warm) day!