Louise Blog
Director's Blog – July 14, 2019
CAMPER-IN-TRAINING DAY 2019!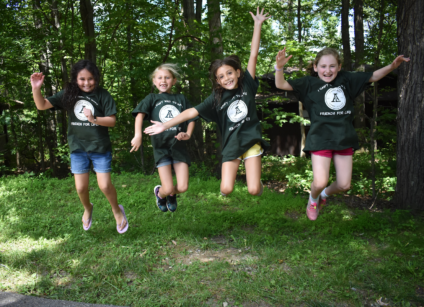 In addition to our 465 campers in camp, we welcomed in 59 campers-in-training and their families today to come and truly experience camp in action! The campers were placed into "bunks" with counselors of their own, and they got to participate in some of our activities including fun with our Outdoors department, Arts & Crafts, dance, drama, folkdance, gaga, and swim! They got to see a bunk and even get some mail at our camp post office. What a fun surprise for them!
Meanwhile, the parents were also placed in "bunks" with their own counselors too! They had a tour of camp, visited a bunk, did some letter writing, and heard from some of our staff in a panel discussion. In addition, they also got to participate in some activities too!
Everyone enjoyed a typical camp lunch of chicken tenders and tater tots in the middle of their busy day.
One of the best parts of the day is hearing the WELCOME TO CAMP shouts from all of our current campers and staff. They are so very proud to show off their summer home to these prospective campers.
At the end of Camper-in-Training Day, it is quite a treat seeing all of our new campers running into the Dining Hall to see their parents and hearing them talk about their day – the activities, the food, and their new friends!
Some of the friends they met today may truly become their FRIENDS FOR LIFE!
Can't wait to see them all back in 2020!
Alicia
Today's Birthdays

Ava – Bunk 33

Isabelle "Funky" – CIT
DIVISION SPOTLIGHT – Junior Camp 

Tonight, we watched an amazing performance of Frozen in Jill's Place.  Before our eyes, Anna and Elsa grew from small, to medium, to full size.  Part of the magic of camp is watching these transformations take place in real life.  Even when campers don't physically grow during their summer at camp, they grow in skills and confidence.  They stand on stage and sing solos in front of their peers.  They move with grace and confidence.  As our campers grow from Junior Campers to Senior Campers to Trainees, we see the same thing.  Not only are they taller, but braver, more confident, more authentic, and driven by care for others, just like Anna and Elsa.
Dapple – Junior Camp Division Head
Today's Menu
Breakfast, Lunch, Dinner
Bagels | Lox Spread | Tomatoes Onions Cucumbers | Scrambled Eggs | Orange Wedges, Chicken Tenders | Tater Tots | Corn | Macaroni Salad | Salad Bar | Pasta Bar, Pasta Night | Assorted Noodles & Sauces | Garlic Bread | Prima Vera Veggies | Mozzarella Sticks | Salad Bar | Pasta Bar
Today's Weather

High: 86°F | Low: 63°F – A truly gorgeous day!