Airy Blog
Director's Blog – July 15, 2016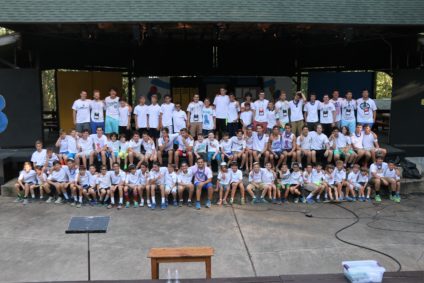 Oh brother! It's hard to believe that this weekend marks our final Shabbat of the first session. It feels like we were just singing the first "Bim Bam" of the summer. We have enjoyed our camp Shabbat celebrations in 2016 with a mixture of new elements and time honored traditions. One new wrinkle this week was gathering for our Friday night service at the Cohen Theater. The tree-lined natural setting, and the sea of white shirts as one looked across the rows, both contributed to a wonderful vibe and venue.
Our songleader Shy led a group of campers and staff through the service, after which a very cool photo op occurred. Airy's photographer Britta organized a sibling picture for this Shabbat. Not all brothers are pictured – some siblings were campers during the first two weeks. One camper asked me if he could still be in the picture because "my brother is a counselor and he's on time off." Some campers took the initiative to find a stand-in brother. Sababa – it's all good.
When the boys and young men at Airy talk about "brotherhood," it has meaning on multiple levels. Literally, as the picture shows, siblings attend Airy, many of them continuing an Airy-Louise family legacy that spans three or four generations. For others, being an Airy camper means a special connection to friends and bunkmates that become as close as family. The shared moments and experiences create an experience unique to camp, and that interpersonal closeness is the "brotherhood" of which they speak. When many of our Airy boys become young men and participants of our counselor-in-training program, that brotherhood takes on special meaning as the camper journey winds to a close.
As we continue our Airy Shabbat, we look forward to the CAs (rising 11th graders) leading the Saturday service, and the recognition of this week's "mensch" honorees (the middah is KINDNESS), and last but not least "Outdoor Day." Shabbat Shalom!
Marty
Today's Birthdays
Julian
Ethan
Garrett
Today's Menu
[table "" not found /]
Today's Weather

High: 93°F | Low: 72°F
A warm sunny day