Airy Blog
Director's Blog – July 15, 2017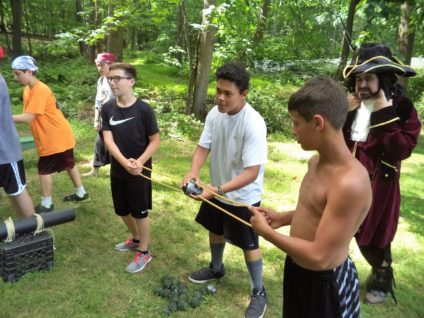 "A Pirate's Life for Me"
One of our most storied traditions at Camp Airy is "Outdoor Day." Once each summer, the Airy Outdoor Department (with an assist from its counterpart at Camp Louise) runs an afternoon/evening of adventure and excitement. This morning was a late wake-up with optional breakfast. The dining hall was calm and quiet, when all of the sudden pirates entered from all of the doors. These swashbucklers went on to explain that the afternoon schedule at camp would be spent with this band of pirates.
We all knew what was in store for us – a pirate-themed day with mud, water, surprises and tasty treats. There was face painting, a mud pit, a slip 'n' slide, and jousting. There were ropes to negotiate and water balloons to lob. And did I mention the mud?
Outdoor Day is a prime example of what Airy fosters – we see the results when creativity and collaboration are mixed with the willingness to participate try a new things. The team at Outdoors, lead by Gary and Jon, hatched a plan that let campers and staff step into a world of pirates. Their costumes and role playing were clever, and visitors to "Pirate's Cove" were immediately brought into the action. The sights and smells seized our senses – Bob's brisket from the slow cooker, an array of eclectic elixirs, the rattling of "swords" as the pirated walked around. Pirates like to have their fun, so it was no surprise that the most laughter and shrieks came from the mud pit and the slip 'n slide. (Note – I can neither confirm nor deny that the Airy pool staff were still getting mud out of the pool when the clock struck midnight.)
Later when camp gathered as one group for Havdalah, we sang a familiar song that talks about "a good week, a week of peace, may gladness reign and joy increase." Airy Outdoors certainly did their part and set the tone for a wonderful last five days of the session.
Have a sensational Sunday,
Marty
Today's Birthdays
Ethan
Julian
Garrett – staff
Today's Menu
[table "" not found /]
Today's Weather

High: 87°F | Low: 63°F
A beautiful day at camp!