Louise Blog
Director's Blog – July 15, 2017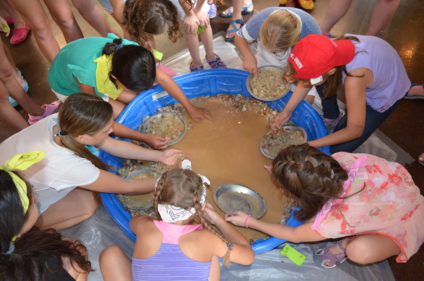 YEE-HAW!  IT'S GOLD RUSH TIME!
This afternoon, Camp Louise turned into an old western! We all put on our bandanas and western wear (you would be surprised what our campers can wrangle up for these crazy unannounced costume days) and moseyed down to the Gym for the introduction to our Western Day!
Bunks had to work as a team (in honor of our upcoming Middah of the Week – teamwork) to find gold. They searched camp for golden nuggets that they could cash in at the Bank and Gold Exchange for money. They could then use their money to play games and earn raffle tickets.
The campers had a phenomenal time playing games:
Cornhole                                 Beat the Dealer                   Ring Toss
Shell Game                             Horse Racing                       Panning for Gold (see picture)
Lasso-A-Steer                          Spin the Wheel                    (Cup)Cake Walk
They could also visit:
Fortune Teller
Tattoo Parlor – Think face paint
Make a Pet Gold Nugget (AKA pet rock)
And they could even put someone in Jail for a price. And then of course, they could buy their way out by paying money or by doing a task. I saw one camper reenacting the opening scene of The Lion King to break free.
Some CITs were bandits running around seeking gold. I don't think they found any though.
The day reminded me of the good 'ole Country Fair (a carnival we had back in my camper and counselor days).
One of the best parts of the day for me was when I saw five campers give their money to some campers who were not having luck finding gold. They unselfishly and willingly shared their money with others. Priceless!
Another favorite part of the day was watching the bunks walking hand in hand on our athletics fields and White House lawn. They were all working toward a common goal – in this case, searching for gold.
At Havdalah tonight, I challenged the campers and staff to find other ways to work as a team as we go into week #4 at camp.
Where does the time go???
Lilah Tov, Y'all!
Alicia
[bq_color]
Today's Birthdays

Sumetha – Counselor
[/bq_color]
Today's Menu
[table "" not found /]
Today's Weather

High: 84°F | Low: 66°F – Beautiful day!