Airy Blog, Louise Blog
Directors' Blog – July 15, 2019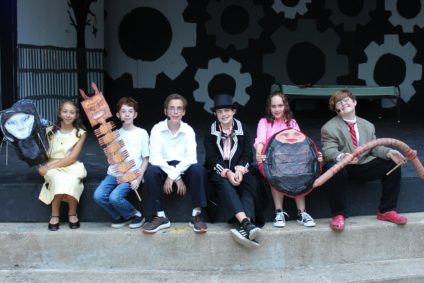 Camps Airy and Louise Take the Stage!
REVIEW OF JAMES AND THE GIANT PEACH BY JOSH TOW, AIRY DRAMA DEPARTMENT
James and the Giant Peach (and improv comedy show) was truly a team effort. Cast illnesses and challenging weather required an alteration to the shows on Sunday and Monday. The first half of the performance consisted of the cast members performing a few key songs and scenes from the show, which were performed fantastically by Sammy, Sam, Avi, Simon, Julia and Rachel. Following this, the show shifted gears towards an improv show, with members of the cast and members of the audience working together to play improv games. Kids and staff from all units had the chance to experience acting on stage in front of their peers, and they absolutely loved it. The kids in the audience also loved seeing their friends perform on stage and the music department chiming in with some improv of their own.
REVIEW OF FROZEN BY MORGAN BECKER, UNIT LEADER OF A AT LOUISE

Last night we had an amazing night in our Jill's place theater watching some incredibly talented campers perform Frozen!! After just three weeks preparing and practicing, our cast and crew members were ready to share the show with both Airy and Louise campers. I really enjoyed watching as campers from all units came together to portray Anna and Elsa as young princesses and then as they grow up to become adults. We also had a fantastic company as the townspeople of Arendelle, the trolls, and some snowflakes! You could feel the chill as Elsa came on the stage and sang a fantastic rendition of Let it Go! Even Neil and the Louise Outdoors Department got in on the fun to give us all a lesson on living the Hygge lifestyle, which is cozy and fun. As one counselor put: "It was so much fun to watch the campers sing and dance on stage!" I know they had just as much fun performing as we did watching. Way to go!
Congrats to all performers!
Alicia and Marty
Today's Airy & Louise Birthdays

Garrett – Staff
Ethan
Julian
Beni
Today's Louise Menu
Breakfast, Lunch, Dinner
Breakfast Burritos | Tortillas | Scrambled Eggs | Hash Browns | Onions & Peppers | Cheese | Salsa | Sour Cream | Melon, Pizza | Caesar Salad | Sauteed Veggies | Zucchini Fries | Salad Bar | Pasta Bar, Hamburgers | Hot Dogs | Corn on the Cob | Potato Salad | Cucumber Salad | Salad Bar | Pasta Bar
Today's Airy Menu
Breakfast, Lunch, Dinner
French Toast | Scrambled Eggs | Cereal | Fruit | Yogurt , Pan-Airy Bread Bowls | Soup | Caesar Salad | Greek Salad | Salad Bar | Pasta Bar, Hamburgers | Hot Dogs | Corn on the Cob | Potato Salad | Cucumber Salad | Salad Bar | Pasta Bar
Today's Weather

High: 83°F | Low: 64°F – A truly gorgeous day!