Louise Blog
Director's Blog – July 16, 2016
Shabbat Shalom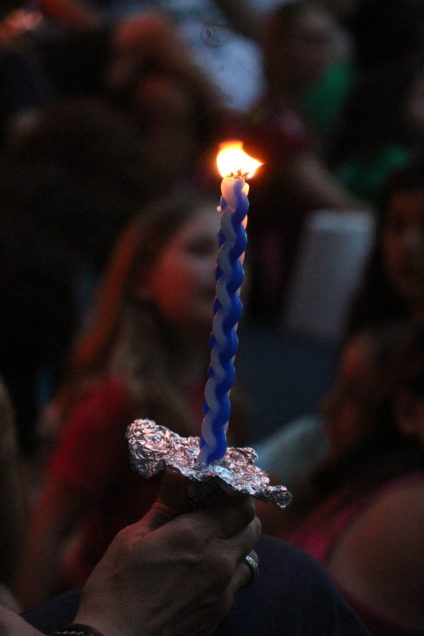 In our every day camp lives, we are busy, busy, busy – running from activity to activity throughout camp. The days are full and long and we love it that way. When Shabbat comes, it is truly a time for us to take a break, rest and reflect. Showering, putting on all whites and getting ready for Friday night services signifies to us at camp that Shabbat is coming and things are different. We slow down a bit, spend some extra quality time with friends, and things are just calmer – but still with that camp Shabbat ruach that we know and love.
We spend Friday night participating in services, enjoying a delicious Shabbat dinner, singing and dancing at our spirited song session in Solarium, folk dancing in the Gym, and ending the night with a special Oneg treat.
This year, our Saturdays are different…we have a Lazy Breakfast. It has definitely been a big hit! Campers and staff can leisurely come to breakfast in their pajamas and enjoy an open buffet before we change back into our whites and gather in Solarium for morning services. This week, we had over 40 campers volunteer to lead prayers, readings and songs during services. What a testament to our community – wanting to participate and lead in a meaningful way.
And Saturday night is one of my most favorite parts of the week – a beautiful Havdallah service led by our CAs. We talk about our middah of the last week (leadership) and the middah coming up (teamwork) and we finish the night with our slide show and our final Goodnight Song of the week. It is such a special time for our community.
This week, one portion of our service really stood out to me:
O G-d, we thank You for the ordinary days of the week, for work and play and growth. We thank You for this special day of Shabbat that brings us together in this hour of worship. We come as a family – the family of Camp Louise – campers, counselors, staff, and guests – to share in these moments of rest and quiet that are part of our day of Shabbat Shalom – Sabbath Peace. 
Help us, O G-d, to lay aside our problems for a while as we turn to think of our blessings. May we here find the inner joy and quiet of Shabbat Shalom and be refreshed with renewed strength.
As we take a break from the rest of our week, what an important time to reflect and remember our blessings – there are so many for each and every one of us. In the routine day-to-day, it may be hard to remember some of these blessings. Take some time this weekend to truly take a break and reflect.
Have a wonderful, meaningful weekend and Shabbat Shalom!
Alicia
[bq_color]
Today's Birthdays

Gabi – Unit Leader
[/bq_color]
Today's Menu
[table "" not found /]
Today's Weather
High: 85°F | Low: 65°F – Hot and sunny with a little breeze….a great day here at camp!