Airy Blog
Director's Blog – July 16, 2017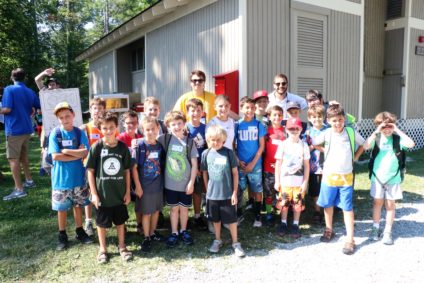 "I'm Gonna Be a Pizza Man"
Introducing the Camp Airy CIT class of 2027?!? We don't want to get ahead of ourselves, but it's hard not to on a day like Camper in Training Day. Camp Airy kicked off Week 4 of the summer by welcoming 54 prospective campers and their families for a day of fun in the sun, With the help of staff, volunteers and Airy trainees, the day was nothing short of tremendous!
During the morning, our camper "bunks" played kickball, Quickball, visited Fun FactAiry to make their own camp critter, jumped around in a bounce house, slam dunked on lowered basketball rims, toured an Airy bunk. and of course played on our Village Row playground. Meanwhile, the parents were toured around camp, played Human Anagrams, wrote letters to their children, and participated in a Q & A panel with some Airy leadership staff.
During lunch in our always-exciting-seldom-quiet dining call, the CITS were serenaded by the CITs … Airy's counselors-in-training sang "Pizza Man" for the campers-in-training. After lunch, the campers-in-training were surprised and delighted to receive mail from the Airy post office. And then it was time – to take our guests downhill and let them loose on some wonderful opportunities.
The campers made their way through nature, parkour, go-karts, skate park, and beach volleyball/newcombe. Meanwhile, the parents dabbled in CulinAiry, Creative Arts and MegaZip. Some families took go-kart rides together. Some parents raced on the dual zipline. And on this warm day, some families took a dip in the pool.
As our visitors left around 3 pm, we saw so many happy and tired faces. Some were already asleep in air-conditioned backseats of cars. Before signing off, allow me to make one plug – if any blog readers know of families that had hoped to come to camper-in-training day but could not, we are more than happy to host prospective families for summer tours. Just let us know.
Marty
Today's Birthdays
none
Today's Menu
[table "" not found /]
Today's Weather

High: 95°F | Low: 66°F
A warm and sunny day in 21788!