Louise Blog
Director's Blog – July 16, 2019
FOLKDANCE FESTIVAL 2019
Melanie looks forward to this favorite night of camp the whole year! Spending 9 summers at camp as a camper, this is her fourth year on staff and her first as Folkdance Department Head. Each year, Mel (who is a history lover) was so happy to announce this year's theme….drumroll please….Founding Folkers. She feels that everyone at camp gets excited for the 4th of July and this theme goes along so nicely with that.
Sticking with the theme, we heard songs between each dance number, such as Madame Secretary, the theme song to West Wing, patriotic songs like 50 Nifty United States and of course how could we not include songs from the Broadway hit Hamilton?!
Folkdance Festival is a night that many of our trainees (rising 10th – 12th graders) look forward to for years! Each group has a signature dance that they learn and perform with pride. This year, the STs (rising 10th graders) will be doing Boker, CAs (rising 11th graders) dance to Darkenu and CITs (rising 12th graders) perform Mishaela.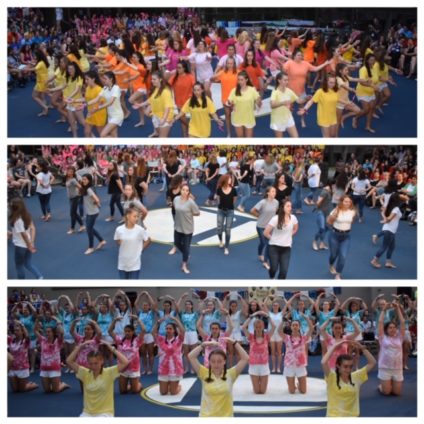 When I spoke to our trainees today, their excitement was quite evident. Quotes I heard about tonight:
This is such a big part of camp!
 It makes us feel so special to be in Folkdance Festival as a trainee.
 We love it!
We can't wait!
We are now a part of yet another tradition at camp!
Many of the CITs told me that this dance unites them. Before this summer, there were two separate sessions of campers, but they would all be doing the same dance. Performing Mishaela tonight as one group united them as a whole, bonding both of the sessions together.
The pictures show it all – the bonding, the love, the friendship – all shown through the beauty of dance.
Melanie loves that this night involves so many campers, and I agree 100%.
Our campers continue to make me so proud!
Alicia
Today's Birthdays

Mia – Bunk 19

Mia – Bunk 25

Celia – Unit B Swim Counselor
UNIT SPOTLIGHT – Unit F 

Unit F has been very busy participating in tons of activities to get to know girls in the other bunks! Since this is the last summer the campers will get to use bunk requests, it has been my goal to allow each girl to have the time to get to know the rest of the unit. Yesterday, we started a game of Gotcha! Each camper was assigned the name of a girl in a different bunk in the unit and has been tasked with putting a clothespin on the girl's shirt without them noticing. I can't wait to see who makes it the longest without getting pinned! It's hard to believe that there are only a few days left of first session, but I feel extremely lucky to have been able to spend so much time with such an awesome group of girls!
Alyssa – Unit Leader, Unit F
Today's Menu
Breakfast, Lunch, Dinner
French Toast | Scrambled Eggs | Honeydew, Grilled Cheese | Tomato Soup | Goldfish | Fries | Broccoli | Salad Bar | Pasta Bar, Medieval Times Night | Roasted Chicken | Roasted Red Potatoes | Corn | Broccoli | Rolls | Salad Bar | Pasta Bar
Today's Weather

High: 91°F | Low: 73°F – I'm feelin' hot, hot, hot – with a brief late afternoon storm.