Airy Blog
Director's Blog – July 17, 2018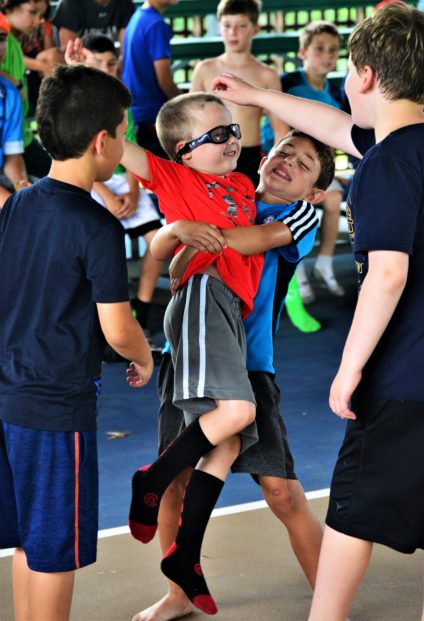 "Celebration!"
This is Bennett. He's one of the youngest campers at Camp Airy. It's his first summer here. This picture was taken after his match in the Airy wrestling tournament. He won his match, and the elation on the faces of Bennett and fellow wrestlers is priceless. I'm happy to report that these moments happen all the time at camp.
Parents ask me all the time "Will my son make friends at camp?" Bennett came to Airy on July 8. He did not know anyone coming to camp this summer. From the look of the picture, his adjustment has gone pretty well. All over the mountain, campers celebrate each other's success and moments in the spotlight. One of my favorite aspects of camp is when a performer in an Airy show or concert hears rousing applause and whistles from bunkmates in the audience. At morning line-ups, campers play starring roles in our daily schtick. Secret talents, wacky abilities and of course birthdays are cheered and relished. The whole bunk shares in the prize when a bunkmate spins the Wheel of Birthdays. And of course, the lucky campers who share a pop tart pack as we recite "Hamotzi" are surrounded by friends looking for a sliver.
It would not surprise me one bit if Bennett and the boys in this picture end up as long-time friends. Camp friends become college roommates and members of wedding parties. My fantasy football league is made up of all Airy friends. The friendships date back to our days together as campers and staff. The 12 of us gather for our annual draft up at camp. A few of us come up the night before the draft to share in Rocky's pizza, some basketball on Village Row, and Spades games. Within our group, four of us (so far) send campers to Airy and/or Louise. Six of us work or volunteer for Airy and Louise. Many of us attend the annual Leaf – Alumni weekend. All of us think of camp as home.
Marty
Today's Birthdays
Jared – staff
Ethan – staff
Today's Menu
[table "" not found /]
Today's Airy Weather

High: 83°F | Low: 64°F
Warm, with off and on rain.