Louise Blog
Director's Blog – July 17, 2018
HELLO MUDDAH, HELLO FADDAH – MAIL FROM CAMP….OR NOT?!
During the year, mail can sometimes be a humdrum (or even dreaded) event – bills, unwanted solicitations, and the occasional invitation or birthday card. Although in today's world of email and online bills, mail is not even so important anymore – except for one time during the year…when their children are at overnight camp. And now all of a sudden, parents are running to their mailboxes on a daily basis longing to hear from their children at camp.
Sometimes no news is good news. Campers are so busy, they don't have time to write. This was very evident when one parent of Ally, a 7-year camper, told me:
We miss her so much and are counting the days, but we also know that Ally loves every moment of her time there, because we have 100% proof — we never hear from her. This summer before she left, she actually said to me: "So, it's still the same deal right? You write to me every day and I never write back, right?" I cannot imagine any other time in life where it's both acceptable AND a good thing when you don't hear from your daughter for a month!
For first year camper Jamie, her mom was so happy and admittedly a little teary when she received Jamie's first letter….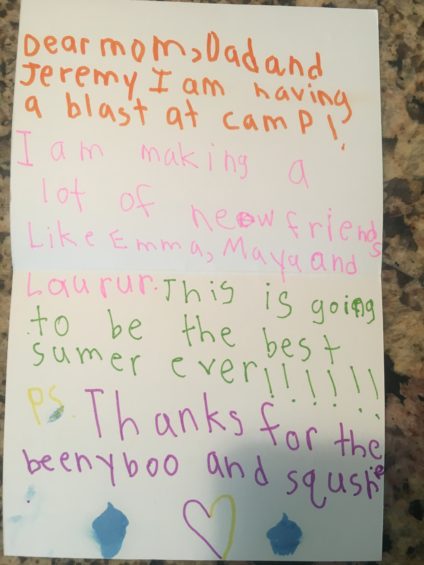 Now, that's a keeper!
I wonder if my parents ever kept any of my letters from my first year in 1980. Would be funny to look at now….38 years later. Who would have guessed that an incredibly homemissing camper would now be in her 11th year as Director?! Certainly not me!
Alicia
[bq_color]
Today's Birthdays

Eliana – Bunk 33
Christine – Aerial Yoga Specialist
Jordy – Counselor
[/bq_color]
Today's Menu
[table "" not found /]
Today's Weather

High: 85°F | Low: 65°F
After some brief storm procedures this afternoon, the sun came out for a nice, clear night!