Airy Blog
Director's Blog – July 17, 2019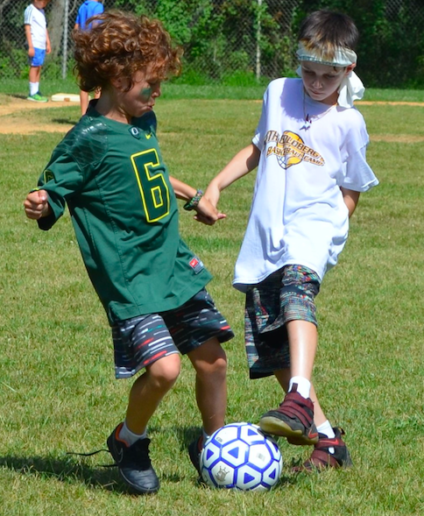 "You'll Never Walk Alone"
The song referenced today comes from across the pond, as it has strong meaning for fans of the Liverpool football club. I'm certain that the mere mention of the song is polarizing for Liverpool fans and detractors, much like "Sweet Caroline" is for Boston sports. Baltimore fans are always particularly fond of "Thank God I'm a Country Boy," and more recently a song with a chorus of "Oh, Oh oh oh, oh oh, oh" … "Seven Nation Army" by the White Stripes. Long story short, we loved this picture of an Olympic soccer match. I had to dig a bit for a song with some soccer connection – undoubtedly there others, and I look forward to our international staff letting me know all the songs I should have chosen instead.
Regardless of geographical roots or sports team allegiances, our Camp Airy Olympics is a unifying event. It's not just athletic events – we aim for creative, fun, silly, skillful and collaborative. Songs and skits and cheers and card games and parkour and camping and mosaics and newspaper and swimming and running and bingo and inspection and a gameshow. And sports. And tug o' war. And more.
When the Green and White teams gathered tonight at the Cohen Theater, the score was 3850 to 3850. A tie. Are you kidding? You can't write a better story if you tried. There is some Airy Olympic mythology that tells how Olympics ALWAYS come down to the final day tug of war. Maybe it will this session This July 2019 Olympics has been defined so far by good competition and even better sportsmanship. We are all excited to tabulate the scores from tonight and dive into Thursday's events. The trophies are ready.
So long until the next blog,
Marty
Today's Birthdays

Happy Unbirthday to all!

    UNIT SPOTLIGHT – Unit B    


Greetings from Unit B!!!

At camp, our campers are all so excited to be part of the Camp Airy July 2019 Olympics! Since generals were announced last week, so much has been taken place. Last night the whole camp participated in our Olympic Game Show and camp-wide Olympic events! Today our campers went head to head in inspection, athletic games, creative competitions, swim meets, track and field events, and wrist-wrestling. Some of our campers were even able to compete in exciting areas like skate park, parkour, and many tested their culinary skills in the kitchen. There is never a quiet moment during Olympics, as campers and counselors alike are found cheering for their team and showing their team pride! As you can tell, our campers have been having loads of fun on the mountain and are extremely excited for the many more things planned!

– Tyler Schwartz, Unit B Unit Leader

Today's Menu

Breakfast , Lunch , Dinner
Egg McAiry | Yogurt | Cereal | Fruit , Pulled Chicken | Tater Tots | Salad Bar | Pasta Bar | Brownies , Chicken Pot Pie | Salad Bar | Pasta Bar |


Today's Weather

High: 92°F | Low: 72°F
Hot, with some late afternoon thunderstorms, and then a clear evening.