Louise Blog
Director's Blog – July 17, 2019
!YAD SDRAWKCAB YPPAH
We all gathered at the flagpole this morning but wait, something is amiss…the flags are already up. In a state of confusion, we lowered the flags – and so began BACKWARDS DAY!
The day started as all good meals end…with dessert. We enjoyed waffles, ice cream, fruit, and toppings – along with our regular oatmeal and cereal options. We then went to Jill's Place where we sang the Goodnight Song and had our evening activity of Theater Sportz! Following, we had our activity periods in reverse order – 5, 4, 3, 2, and 1.
We had clean-up time in the evening, flashlight time in the morning, breakfast for dinner and we raised the flag before going to bed. We dressed backwards, spoke backwards, and I even saw a golf cart riding through camp backwards.
One of the best activities I saw today was at the pool. The campers were giving the staff mermaid training (AKA instructional swim). Not only was it fun, but it was actually quite a learning opportunity. Hearing the campers using swim vocabulary really showed how much these campers have soaked in this summer.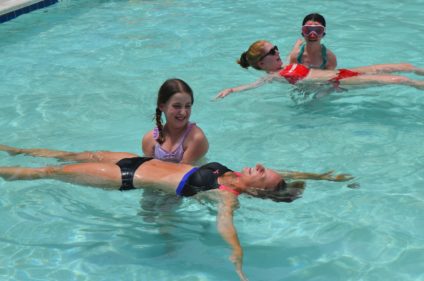 And as we get on our pajamas and got ready for wake-up time, it is hard to believe that week #4 is coming to a close…
Good morning!
Alicia
Today's Birthdays

Clara – Bunk 19

Jordy – ST Swim Counselor
UNIT SPOTLIGHT – CAs 

Happy CAmp-lloween! This morning, the CAs were woken up by their counselors to spooky music and signs telling them to dress up for CAmp-lloween. Some of the costumes we saw around camp today were tourists, cats, Harry Potter, and many more. What a great way for the CAs to spend one of their last few days on the mountain!  Only at camp is it totally normal to see a counselor walking around in a banana suit!
Jill – CA Unit Leader
Today's Menu
Breakfast, Lunch, Dinner
Waffles | Toppings | Ice Cream | Fruit, Panera Lunch | Bread Bowls | Assorted Soups | Broccoli and Cheese Soup | Hearty Veggie Soup | Veggie Chili | Assorted Summer Salads | Salad Bar | Pasta Bar, Egg Sandwiches | Croissants | Biscuits | Cheese | Meatless Sausage | Hash Browns | Rolls | Cereal Bar
Today's Weather

High: 88°F | Low: 70°F – Hot with an afternoon storm and then a breeze tonight