Airy Blog
Director's Blog – July 18, 2016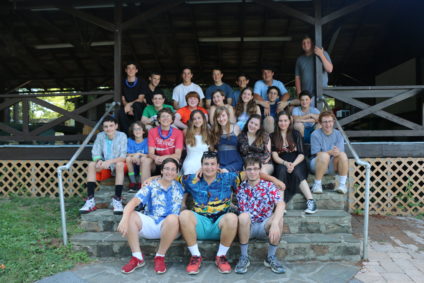 If you made a list of things that might be difficult to do, items might include:
– working up the courage to try MegaZip
– getting a "bullseye" in archery
– hitting a half-court shot in basketball
Or what about this? You could be on the precipice of being a teenager, living in New York City and getting excited for your Bar Mitzvah, when all of the sudden you are moving to Indiana. The Bar Mitzvah celebration is up in the air, not to mention the small matter of trying to navigate a new school and new friends.
This was the backstory for the July 2016 Camp Airy production on "13." I must say how impressed I was with the cast and crew of the show. Our campers (and staff) really are so talented – music, acting, comedic timing, and presence! It is quite an accomplishment for a show to come together in less than three weeks. Beyond just learning lines and songs, the choreography and live music in the show are all examples of how complex it is to make a show like "13" a reality. Mission accomplished. Bravo to Airy's Courtney, Dan, Ben and Marshall for their leadership.
And down the road in Cascade, the Camp Louise production of "The 25th Annual Putnam County Spelling Bee" drew rave reviews. The guest spellers were a fun surprise! Big props to Zach and Ricky for holding their own in Putnam County.
Although our Airy-Louise trips are all done for this session, I am excited for our Olympics to begin. Now, if I could only find that torch …
Marty
Today's Birthdays
none
Today's Menu
[table "" not found /]
Today's Weather

High: 90°F | Low: 68°F
A sunny and warm morning, followed by a short and strong rain storm, and then finally a lovely evening for Airy and Louise shows.