Louise Blog
Director's Blog – July 18, 2016
25th Annual Putnam County Spelling Bee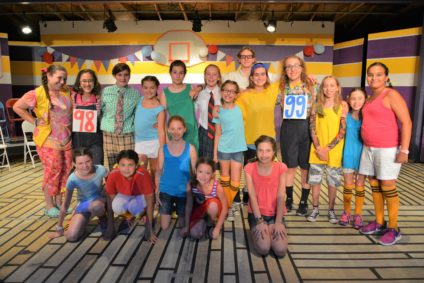 The play at Camp Louise was truly fantastic! The 25th Annual Putnam County Spelling Bee was just terrific! The actors were fabulous (singing, dancing, acting – all amazing!), the set was incredible (the stage of Terrace Theater looked like a real hardwood floor), and the band was so great too! It is hard to believe that they put this production together in less than three weeks. It is so very impressive!
In talking to the director and a couple of cast members today, they told me:
"I'm so proud of what these campers have accomplished in such a short amount of time.   They've worked together to create a really fun, funny and unique production"
~Hannah, Director
"I think it's really great!   I love the improv that we do.   I'm having a lot of fun."
~ Maddie, Cast Member
"I think it's really funny this year.   Everyone is included and it's fun how it's kind of a game show."
~Rose, Cast Member
The cast has definitely become a family during the time they have been working on the show – caring for each other, helping each other and feeling so proud of all of their accomplishments!
All of the rehearsals have been well worth it. The applause from the audience definitely showed the cast how much they enjoyed the show.
G-O-O-D-N-I-G-H-T!
Alicia
[bq_color]
Today's Birthdays

Jana – ST
Josiah – Staff
[/bq_color]
Today's Menu
[table "" not found /]
Today's Weather
High: 94°F | Low: 70°F – Hot and sunny with a beautiful downpour this afternoon!  A nice and sunny afternoon following and clear evening!