Airy Blog
Director's Blog – July 18, 2019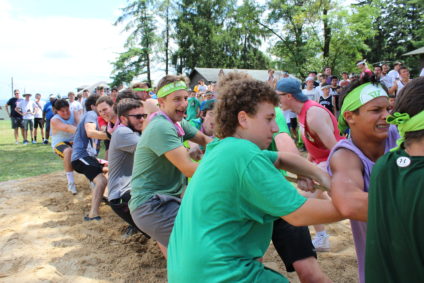 "We Are the Champions"
"We are the champions, my friends, And we'll keep on fighting 'til the end"
The Olympic deadlock of 3,850 points per team had slightly changed by breakfast Thursday morning, with Green taking a 250 point lead. With weather cooperating, camp entered into its last part of Olympics – inspection, two rounds of all star games, and the tugs. When campers and staff arrived at the volleyball court after lunch, the spread was a slim 25 points.
For the first time in a long time, the Olympics came down to the final tug o' war matchup – the staff tug. There was excitement in the air. Each team assembled a 22-person squad. Outdoor staff, kitchen staff, CITs, bunk counselors, and even some supervisors were among the 44 sets of hands on the rope.
Using the microphone, I gave the standard instructions that I learned as a camper way back when: "Pick up the rope, but do not pull." The rope rose to about waist level.
"Brace" was next. The rope was pulled taut, and staff dug in.
Rachael blew the whistle. You can picture what followed – cheering and pulling and people urging their team on the rope to "1-2-3-pull."
In the end, Green emerged victorious. Each general, with what little voice remained, thanked their teams, their opponent, and one another for the experience. There was so much to be proud of from so many points of view – winning; battling to the end; sportsmanship; teamwork; reuniting as one camp after the competition ended.
I know our campers and staff had an amazing end to what was an amazing session. Thanks for reading and being part of the ride these past 4 weeks. See you on Monday.
So long until the next blog,
Marty
Today's Menu
Breakfast , Lunch , Dinner?
Waffles | Syrup | Scrambled Eggs | Yogurt | Cereal | Fruit , Meatball Subs | Tater Tots | Salad Bar | Pasta Bar | Cookies , Gyros | Couscous Salad | Israeli Salad | Salad Bar | Pasta Bar |

Today's Weather

High: 88°F | Low: 72°F
Overcast and humid, but dry enough for us to wrap up Olympics.