Louise Blog
Director's Blog – July 18, 2019
LILA TOV, CAMP LOUISE!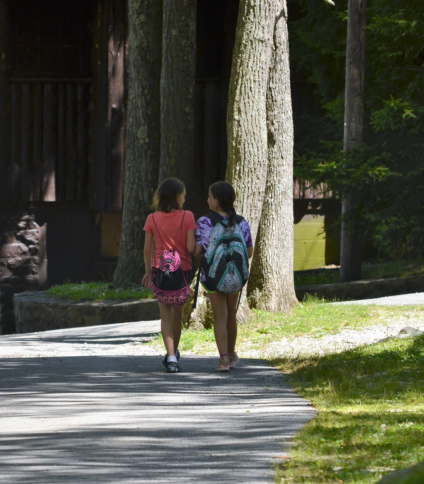 It is so hard to believe that this is the last night of the first long session of camp. As you can imagine, tonight was filled with memories and laughter and lots of tears.
After Dance Concert, our CAs (rising 11th graders) led us in what we call our Separation Ceremony. Let me help set the stage for you….walk outside, find a nice comfy spot, notice your surroundings, stare up at the stars in the sky, breathe in and out, reflect on your week, think about your friendships and connections with others, and read these quotes that the CAs shared with us tonight:
Destined to be friends but neither of us knew, now I can't imagine my life without you.
I may not always be there with you, but I will always be there for you.
And what have I learned? I learned not to be homesick. I learned that midnight feasts are no fun. I learned the secret language. I learned that friendship gets you through the hardest of times.
And one of my favorites….
Friends come and go, like waves in the ocean, but true friends stay like an octopus on your face.
At the end of the Separation Ceremony, the CAs sang the song Next Year by Two Door Cinema:
Maybe sometime,
In a long time,
You'll remember
What I had said there.
I said, I'll be home for next year.
Maybe someday,
You'll be somewhere
Talking to me
As if you knew me,
Saying, I'll be home for next year, darling.
I'll be home for next year.
Lila Tov, Camp Louise!
Alicia
Today's Birthdays

Miranda – Bunk 6

Annie – Farming Department Head

Jana – Unit C Swim Counselor
UNIT SPOTLIGHT – Unit D 

It has been a jam packed week here at Camp Louise. We had our amazing crosstrips to watch the plays at Airy & Louise which featured many of our Unit D campers. We also had a really wild day Wednesday where it was Backwards Day. Many of the girls had their shirts on backwards and really embraced the theme. Many of the girls also had an amazing Folkdance Festival where we did a really fun dance and we all coordinated to wear the same colour. Tonight we had our Dance Concert where a lot of the girls performed in a dance and got to show their amazing moves.  It is so sad that camp has already come to an end but time really does fly when you're having fun.
Lois – Unit Leader, Unit D
Today's Menu
Breakfast, Lunch, Dinner
Pancakes | Scrambled Eggs | Melon, Ravioli | Eggplant Parmesan | Italian Veggies | Garlic Bread | Salad Bar | Pasta Bar, Happy Cab Night! | Brisket | Salmon | Grilled Chicken | Rice Pilaf | Grilled Veggies | Salad Bar | Pasta Bar
Today's Weather

High: 84°F | Low: 69°F – Another hot day with a brief rain – sound familiar?!