Airy Blog
Director's Blog – July 19, 2017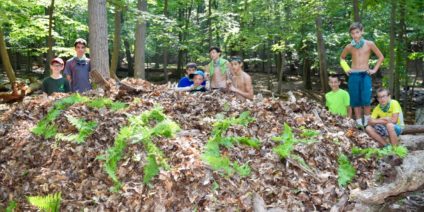 These are not your father's Camp Airy Olympics. We still have a fair share of tightly held traditions – we started Olympics yesterday with the lighting of the Olympic cauldron and a line-up of all former generals who are in camp. And we'll finish tomorrow with Tug O' War right before closing ceremonies. There are skits and cheers and track meets and All Star Games. We still play Family Feud from time to time. Olympic Inspection is still a BIG DEAL.
And at the same time, we have:
Spikeball, with opposing pairs made up on the General and a Unit D camper
Synchronized Dancing, performed by trainees in front of the whole camp
Parkour
Outdoors Challenge (pictured in the blog – notice the "Green" accents)
Wrist Wrestling with a "Mystery Lefty"
There are Olympic Spades, and Olympic Knockout, and Olympic Paintball. There are Amoeba Tag and Scavenger Hunts and Team Mosaics. I wouldn't be surprised to see Go-Karts, MegaZip, Dramatic Monologue and Rocketry make an appearance in the not-too-distant future. And who knows what other ideas will come up? Israeli Dance proponents are already lobbying.
Olympics still are supercharged with Green and White spirit. In recent summers, camp has given everyone some Olympic swag – Rally Towels in 2015, Bandanas in 2016, and Buffs in 2017.
Lots of points still out there to be earned. Generals Stephen and Dani, supported by their lieutenants and braintrusts, have put on a great show so far. Thursday will be thrilling!
Marty
Today's Birthdays
Avi
Brad – staff
Rob – staff
Today's Menu
[table "" not found /]
Today's Weather

High: 95°F | Low: 71°F
Hot and Sunny – a good day for an Olympic Free Swim, so we did that!