Louise Blog
Director's Blog – July 19, 2017
HARRY POTTER GAMES 2017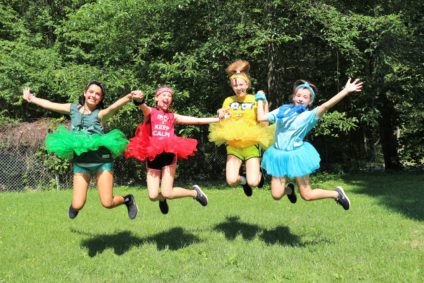 What a day! What a day!
We started our Harry Potter Games day with Accio Breakfast where campers and staff had to use magical words and expressions. A simple Abracadabra, pass the napkins! or something more complex like Reducto your leftovers into compost or the trash can please!
Inspection scores counted toward team points. Camp has never looked so clean! And then we were off to House/Team Meetings before our morning rotation began.
In the gym, there was a serious game of Quidditch – complete with quaffles (dodge balls), chasers, beaters, and keepers on broomsticks, and a seeker trying to capture the snitch (administrative team members running around with a yellow flag hanging off of their waists).
On the fields, campers participated in activities like:
Dragon Egg Toss – water balloon toss
Get a Sock to Free Dobby – potato sack race to grab a sock and run back
Transfiguration/Divination Ball – spud-like activity
Wingardium Leviosa – keeping a balloon up with wands – AKA paper towel rolls
At the pool, there were many fun activities for our wizards in the water:
Potter's Magical Key Hunt – find keys in the pool for points
Ocean of Potion

This was one of my favorites. In this relay, campers had to swim holding a cup of baking soda or vinegar or dish soap. The ingredient was then dumped into a cauldron, which of course would start to bubble as the team recited an incantation.

Harry Potter and the Slithering Slide – a relay around the pool
Pin the Lightning Bolt on Potter!
One of the best parts of the day/summer is always lunch during Color Games because it is Silencio!
This afternoon, we had the History of Magic contests where campers participated in random trivia about Harry Potter, magic animals and the UK. Other campers had an opportunity to play Name that Spell/ Tune. Everyone had a break to make their own edible wands out of pretzel sticks, chocolate syrup and sprinkles.
Dinner's theme was Eating with Ollivander. Wands at the ready…because that's what we are eating with – chopsticks! And check out what was for dinner in the menu below. Yes, you read that right – roasted chicken!
After a massive game of Counselor Hunt (think hide and seek), we gathered in Solarium for our House Cup Closing Ceremony. Final team songs were sung and each team presented a banner and a skit that groups of campers worked on throughout the day.
And then the moment we have all been waiting for…the winner of Harry Potter Games 2017…
BLUE RAVENCLAW
What a fun, exhausting, spirited day!
Flashlight time, everyone!
Lumos!
Alicia
[bq_color]
Today's Birthdays

Caroline – Bunk 20
Ally – CA
Todd – Driver
[/bq_color]
Today's Menu
[table "" not found /]
Today's Weather

High: 90°F | Low: 69°F – Feelin' hot, hot, hot!