Airy Blog
Director's Blog – July 19, 2018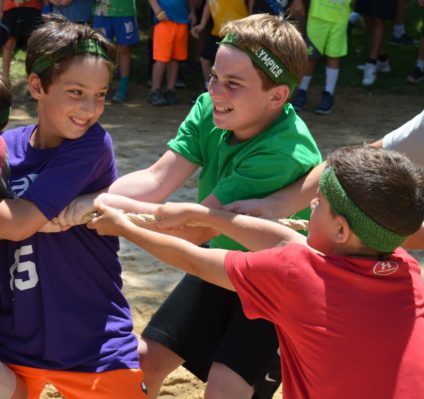 "And the winner is …"
Our July 2018 Camp Airy Olympics got off to a rocky start. Both teams gathered on Tuesday evening at the Cohen Theater after spirited pep rallies for the reading of the charter (see yesterday's blog). As former generals assembled on stage to announce their past themes, the skies darkened. We quickly hustled to covered bunk porches, and we had an Olympic Rain Delay.
The result … two AMAZING AIRY Olympic days. Beginning with Wednesday morning team line-ups, and ending with Tug O War Thursday afternoon, Green and White competed. And when I say compete, I mean:
Team Cheers
Track Meet
Swim Meet
Soccer
Spades
Newcombe
Wrestling
Mosaic
Flag
Spike Ball
Skits
Knock Out
Synchronized Dancing
Human Anagrams
Song Fest
Minute-To-Win-It
Breakfast Bingo
Polite Lunch
… and a whole lot more!
The outcome was still undetermined as we all convened on the Uphill Ballfield for the tugs. When the dust settled (and the sand was dumped out of shoes), Green emerged victorious. Both Generals – Ben and Ben – were gracious in their post Olympic remarks, commenting on the fierceness of competition and the hard work of staff behind the scenes.
It was bittersweet as we wrapped up Olympics and turned our attention to packing up campers. A delicious gyro dinner, a rocking Musical Happening, and of course bunk parties with Rocky's Pizza helped us wrap up the first four week session.
We'll see you in 2019!
Marty
Today's Birthdays
Avi
Brad – staff
Today's Menu
[table "" not found /]
Today's Airy Weather

High: 83°F | Low: 63°F
Again, GORGEOUS!