Airy Blog
Director's Blog – July 2, 2016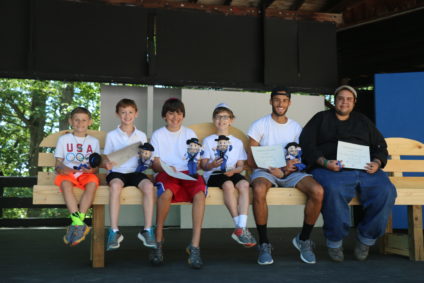 Shabbat Shalom! The boys of Camp Airy partook in the first Shabbat Saturday of Summer 2016 with a mixture of new and old activities. The day began with a late wake-up and an optional breakfast. At 10:00 am we all gathered at the Cohen Theater for a service that truly personified the week's middah of "teamwork."
Staff and campers alike led the service. While Shy guided the service and provided the musical accompaniment, campers led responsive readings and performed a skit about the week's theme. A group of staff that were one CITs together shared a reflection about their recent Birthright trip to Israel. Their message about "being yourself," and their perspective on feeling unsure as new people in an unfamiliar place, were ideas that our campers and staff could relate to and personalize.
Near the conclusion of the service, we took some time to recognize campers and staff who had been nominated by their peers for "teamwork." Throughout the week, a box labeled "Who's your mensch?" collected the nominations. All nominees received a "teamwork" bracelet.
The guys pictured today were chosen for recognition – they are sitting on a custom bench built by our Airy facilities team, and are posing with mascot mensch dolls.
The recipients were:
Dean, Ari, Nico, Adam (not pictured), Benjamin, Matt (Staff), Alfonso (Staff)
After services, our STs hosted camp for an oneg. The smell of cinnamon rolls filled the air, as did the sounds of a live "radio" show. Staff members Alexis, J-Rev and Jon planned the show which took place at oneg and featured interviews of campers at the gathering. The afternoon of Shabbat introduced "shabboptions" – a set of Shabbat games mixed with learning for campers to choose from as part of their unit afternoon.
We gathered as a whole camp once again in the evening for the gameshow "1 vs. 100." The game, organized by our program coordinator Jake, combines trivia, costumes, and audience participation which results in lots of laughs.Following the gameshow, our digital media specialist David shared a Camp Airy Week 1 Video that captured highlights from the week that was. It is always fun to hear campers cheer for their friends and counselors when they appear in a clip.
The video was the perfect transition to take us from the excitement of the gameshow to a more relaxed tone for our havdalah service. The smell of spices and and the glow of candles set the scene as our camp community said goodbye to Shabbat and kicked off a new week. The group learned about the middah of "Leadership" for Week 2.
Shavua Tov!
Marty
Today's Birthdays
Tim – staff
Today's Menu
[table "" not found /]
Today's Weather

High: 80°F | Low: 59°F
A mostly sunny, beautiful Shabbat Saturday