Louise Blog
Director's Blog – July 2, 2016
Louise Lends a Hand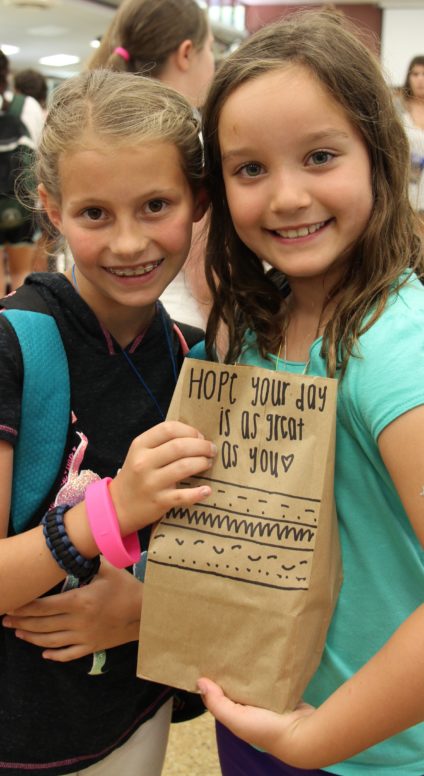 What a great way to end our week thinking about our middah – chesed/kindness. Today all of our campers participated in Louise Lends a Hand. We started the afternoon learning the song Olam Chesed – A World of Kindness. The STs (rising 10th graders) then explained the activities….
Decorating bags and making their own trail mix
Decorating cookies
Making sandwiches
Putting together bag lunches
Making macramé key chains
The cookies will be donated to a soup kitchen that serves 200 people per day at Paul's Place in Pigtown, a neighborhood in Baltimore, Maryland. The trail mix and key chains will go to inner city children who have the opportunity to attend a day camp in the suburbs run by Paul's Place.
The bag lunches (made up of sandwiches the camper made, chips, and an orange) stayed locally and went to a food pantry right here in Waynesboro, Pennsylvania – just minutes from Camp Louise.
When Rabbi Elissa dropped off the bag lunches this afternoon, she said the people were incredibly grateful. Rabbi Elissa also shared with me the importance of Louise Lends a Hand, a program she started over 6 years ago – "Tzedakah is a central part of our Jewish identity. We are so grateful that our children have this amazing experience of camp. It is also important that we give back to others."
I also interviewed some of the campers from bunk 19 (see picture) to ask them their thoughts about Louise Lends a Hand. They said that it was a really, really, really nice thing to do. They know the people who get the food and key chains will really appreciate it. It will put a smile on their faces. One camper summed it all up – It felt really good to do something for others!
During Havdallah tonight, we talked about being kind to others and I asked all of the bunks to spend some time thinking about an act of kindness they each performed this week. I challenged them to continue displaying acts of kindness each and every day. What a great lesson for all of us!
Here's to another great week filled with chesed….
Alicia
[bq_color]
Today's Birthdays

Hannah – Bunk 19
Marissa – Bunk 19
Shirah – Bunk 35
Patrycja – Staff
Leslie – Staff
[/bq_color]
Today's Menu
[table "" not found /]
Today's Weather

High: 81°F | Low: 59°F
Another perfect day here at Camp Louise – sunny, breezy, all around incredible!