Louise Blog
Director's Blog – July 2, 2017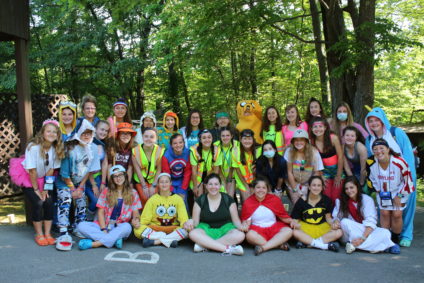 ONLY AT CAMP LOUISE….
Soooo…I am standing up in the Dining Hall doing my daily morning announcements before breakfast and I glance over to where the CAs (counselor assistants – rising 11th graders) sit and I am caught a little bit off-guard. On this regular Sunday morning, all 29 campers plus 6 counselors are dressed up in ridiculously crazy costumes. After Hamotzi, I had to go over and find out what was happening.
The girls told me that their counselors woke them up and announced that it was Purim today and they should all dress up. Why? Just because…and so they did.
The CAs then went on to explain that for as long as they could remember, they have looked up to the trainees and they could not wait until they were a part of the Trainee Division. Now that it is their second year as trainees, they are continuing to love life here at Camp Louise!
Last year as STs (senior trainees – rising 10th graders), they could not make bunk requests and they unanimously they told me that it was the best thing that ever happened. They got to meet so many new friends and this year, they just jumped right back in and picked up where they left off at the end of last summer.
In talking about their attire for today, they told me about their unofficial packing list of onesies, anything neon, tutus, lots of scrunchies, bucket hats, bandanas, and of course costumes. It's just what they do! So when their counselors announced the impromptu celebration of Purim, they heard no complaints, no questions, just a mad rush to find their crazy outfits. When I asked why this works at camp, they explained how camp is a judgment free zone – which may sound strange. At home with all girls, it is not always that way, but at camp it is different. Camp is a place where they can be crazy and creative and it just doesn't matter.
The CAs absolutely adore their counselors and all of the bonding activities their counselors have planned for them – including today. One week into camp and they couldn't be happier. I wonder what else is in store for the CAs….
Happy Purim, everyone!
Alicia
[bq_color]
Today's Birthdays

Hannah – Bunk 25
Marissa – Bunk 25
Shirah – Bunk 13
Leslie – Swim Department Head
[/bq_color]
Today's Menu
[table "" not found /]
Today's Weather

High: 84°F | Low: 66°F – Sunny gorgeous day!