Louise Blog
Director's Blog – July 2, 2018
AERIAL ARTS COMES TO CAMP LOUISE!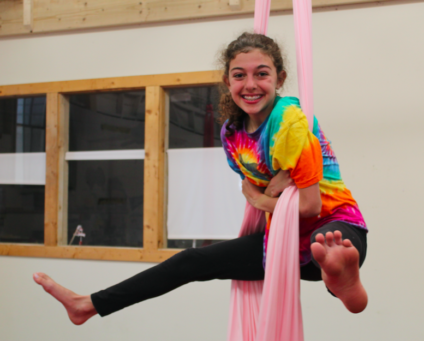 When I was a camper in the 1980s, I played a lot of jacks, wrote letters, made felt stuffed animals and copper enamel bowls, baked black bottoms in Cookery, hung out with my friends, and did I mention that I played jacks?
Camp has changed A LOT in the last 30+ years. We have added the Adventure Park, specialty areas in Arts & Crafts like glass fusion, a whole Multimedia Department, much more in Sports & Fitness (previously known as Athletics), water slides and a log roller at the pool, an Israel Department, our very own Open Greenhouse, our brand new theater Jill's Place (more on this in another blog), and so much more!
We are so proud of our latest activity addition in Sports & Fitness – aerial arts. We saw that there was growing interest in aerial arts (at birthday parties and after school activities) and we decided to give it a try and bring it to camp. And so the search began to find someone with experience who would also be a fit for Camp Louise. Enter Christine from Chicago…..
Christine has been an amazing addition to our staff – jumping right in, meeting people, and bringing aerial arts to life! Christine was a dancer for 12 years and she practiced martial arts for 8 years. She had a friend who was doing trapeze (a part of circus arts) and Christine tried it and loved it. She explained it to me as the scary parts of martial arts and the beautiful parts of dance. Now, she is hooked and has been doing it for 6 years – and full time for 2 years. Christine teaches at a couple of different places in Chicago and she sometimes performs in cabarets in Chicago and St. Louis.
In talking to Christine about her vision for our program here, she told me that she wants to introduce our campers and staff to aerial arts. She wants us to see the amazing things our bodies can do. She is encouraging us to build strength and feel strong, beautiful, and empowered while doing aerial arts.
When walking by the activity area, you can see campers in colorful silks and slings, doing inversions, foot locks, triangles, and even the more advanced mermaid roll up! It is truly so beautiful to watch.
When I asked Christine how camp is going, she said: "It's amazing! I am blown away by the thoughtfulness of all the girls – how they look out for each other and support each other. They are all SO encouraging. It is such a great environment for learning these things."
We can't wait to see what heights Christine takes us to this summer (and in future summers) in aerial arts!
Alicia
[bq_color]
Today's Birthdays – BIG Birthday Day!!!

Hannah – Bunk 28
Marissa – Bunk 28
Shirah – ST
Leslie – Captain Mermaid
Floor – Counselor
Jocelyn – Digital Media Specialist
Meg – Nurse
Donnie – Security
Anita – Kitchen Staff
[/bq_color]
Today's Menu
[table "" not found /]
Today's Weather

High: 92°F | Low: 72°F
Another sunny warm day again with misters pool time, plenty of hydration and sunscreen!